Korea's First LTE-Railway Network Starts Official Service Base on Joint Efforts of Samsung and SK Telecom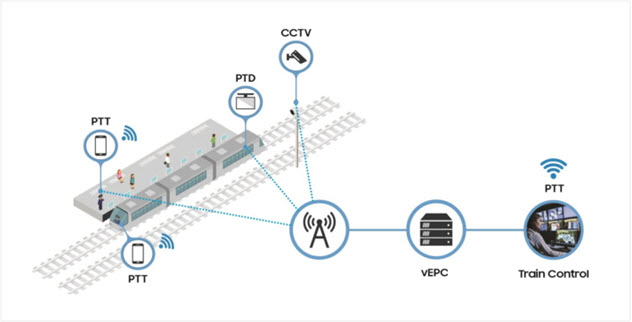 Samsung Electronics announced that its LTE-Railway (LTE-R) solution successfully launched its official service today on the 41km-long Busan Metro line 1 that covers 40 stations in the region. This is nation's first case of the LTE-R technology being used during operation of a train/metro.
The Busan Transportation Corporation (BTS), SK Telecom and Samsung collaborated to replace the existing analogue wireless technology used for mission critical railway operations with the new LTE-R solution. The parties have been testing the newly adopted communication systems since February for final safety checkup. The test drive also included an interoperability test between onboard equipment on the metro and the LTE-R mobile device installed on the railway/train.
LTE-R was developed for the next-generation of mission-critical communication which is essential for railway operation and maintenance. What sets 4G based LTE-R apart from the incumbent analogue or 2G GSM based technologies is that it can provide stable multimedia services. Compared to the one-to-one voice call service between the control center, station employee, and the train engineer that has been available so far, LTE-R technology enables multimedia-based group call/SMS services on top of the voice call service.
The technology better equips rail operators in case of an accident because it transmits real-time video of the station to the central control center. Additionally, real-time group/individual communication is made possible between the train engineer and control center. The technology can also be used for mission critical communication that depends on high speed, security and stability because it is based on LTE technology, which carries features such as latency as low as 10ms and QoS management support.
"SK Telecom has successfully replaced legacy analogue communications network into a multimedia capable LTE railway network which transforms operation procedure more intuitive and efficient," Said Il-gyu Choi, Senior Vice President and Head of Public Business Office of SK Telecom. "With the experience for more than 30 years, SK Telecom will further extend its expertise into public safety areas."
"Reliability and stability are critical because they are directly tied to public safety. Today's launch of the Samsung LTE-R solution with BTS and SK Telecom is a huge milestone for the industry," said Jinsoo Jeong, Senior Vice President and Head of Domestic Business Marketing in Networks Business, Samsung Electronics. "As a leading LTE-R solution provider, we enable fast and reliable communication on high-speed trains capable of speeds as high as 300km/h, which is expected to be started early next year."
Selected as a supplier for all five LTE-R projects in Korea since 2015, Samsung is Korea's leading LTE-R supplier. The Korean government plans to increase the distance that the LTE-R project covers to roughly 5,600km by 2025.
In January 2016, Samsung was selected as an end-to-end solution provider for the Korean government's PS-LTE project, which includes virtualized core solutions, radio access systems and rugged-smartphones. With these successes, Samsung is leading the integration of PS-LTE, LTE-R and LTE-Marine. Samsung also actively participates in interoperability tests to ensure seamless operation between analogue technologies such as TRS-ASTRO, TRS-TETRA, VHF and LTE-R, as well as PS-LTE.