KT's Chairman Chang-Gyu Hwang's speech at Harvard Business School - "Intelligent network to open up an post-mobile era"
10/10/2016 | By Dr. Michelle M. Do (tech@netmanias.com)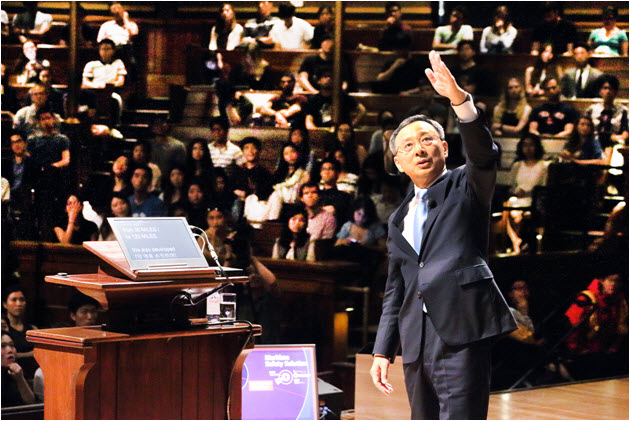 KT's Chairman Chang-Gyu Hwang delivered a special speech last month at Harvard Business School on 'Power of the Network', introducing the company's GiGAtopia (KT's Forward Looking Strategy) along with details of its network innovation, and highlighting the infinite possibilities that can be brought by the next-generation network. Here are the details.
■ Power of Network – Network is not a dumb pipe
He presented 'Intelligent Network' as a next-generation network.
An intelligent network is designed to deliver integrated solutions in the network instead of merely delivering voice and data over wired/wireless network. It aims to offer value-added services at the network level by taking advantage of advanced speed, capacity and connectivity, making customers' lives safer and more convenient while creating new opportunities in the industry.
■ Introducing KT's network innovations
The four key areas of KT's network innovation are speed, surveillance, big data and security.
Speed: GiGA Internet, GiGA LTE, 5G
Wired: 'GiGA Internet' offers speeds 10 times faster than conventional Internet service. Launched in the second half of 2014, the GiGA Internet service has won over 2 million subscribers in less than two years.
Mobile: Realization of GiGA LTE brings future services like UHD, connected car, hologram, VR closer.
Mobile Network: The world's first 5G pilot service is to be launched in 2018 for Pyeongchang Winter Olympic Games.
Surveillance
GiGA Geo-fencing: Offers customized service based on information like time, location and conditions that is collected using location determination technology. Unlike two-dimensional Google Maps, it gives three-dimensional data, which can be used in public safety sector like rescue operations or locating missing children. KT utilizes many different types of networks like Beacon, Wi-Fi, LTE, for geo-fencing.
Marine rescue solution: Over the Horizon Antenna Distribution (OHAD) is adopted, expanding marine LTE coverage up to 200 km even without any marine repeater system, opening up possibilities of covering most of the territorial waters of the nation.
IoT life jacket marine: A jacket featuring IoT technologies, like life tube with built-in water pressure sensor, transmission of data on locations and health conditions of persons in distress.
Big Data
Big data is an essential part of an intelligent network. Operators have not only an enormous amount of data generated from users, but also abilities to analyze it.
Public sector: KT once developed a solution that predicted the transmission route of avian influenza with 90% of accuracy. The solution can also be used in preventing other viruses like Ebola, Mers and Zika from spreading. At the UN Global Compact Leaders Summit 2016 held in June, Chairman Chang-Gyu Hwang proposed 'Big Data Initiative on Disease Diffusion Mapping', announcing his intent to share the company's ICT infrastructure and big data technologies/know-how.
Industry sector: KT-MEG (Micro Energy Grid), the world's first smart energy solution by KT, was introduced. The solution, when used in just 10% of the energy generating sites in the nation, is claimed to save energy use by up to the amount that five nuclear power plants can generate.
Security
Anti-pharming solution: An intelligent network can be a great solution that counterchecks ever-evolving cyber threats. KT's anti-pharming solution, designed to completely block cyber attacks at the network level, is anticipated to be a key service in areas like financial institutes, shopping sites and e-payment.
LTE Enterprise: LTE Enterprise can not only enhance the security in enterprises, but also protect personal data. Although designed for enterprise customers, it can also be used in government agencies, universities, and more.

■ Intelligent Network to drive the next-generation industrial revolution
Chairman Hwang speculated that the network innovation will bring 'tremendous transition' in the industrial paradigm. Intelligent networks will create new values by connecting billions of devices, and will drive the next-generation industrial revolution, not just in the industry, but in our everyday life as well (e.g. preventing infectious diseases from spreading).
He shared the concept of GiGAtopia, KT's vision based on intelligent giga network. GiGAtopia is a world where humans and things are connected via the giga infrastructure, and both industries and humans' lives can be invigorated through integrated services.

In 2014, earlier than originally scheduled, KT launched GiGA Internet service to realize GiGAtopia. The company carried out the GiGA Story project in remote areas like mountains and islands in the nation, showing how GiGAtopia can actually change the way we live. GiGAtopia is the #1 goal and strategy of the company that serves as the cornerstone of the company's network innovation.
Chairman Hwang predicted by 2020 the network speed, surveillance, big data and security will become 10 times better than now. Just like what he predicted 11 years ago has become real by now, his prediction on intelligent networks will likely be realizing one more time soon.

He also emphasized that "Network innovations from now on will not be just about speeds, but about how networks and integrated solutions can be combined." He added, "In the future where intelligent networks prevail, much bigger waves of change in wider areas than the mobile age will be arriving."