KT's verification of four key 5G ultra-real view services and demonstration of autonomous driving and drone delivery
KT held a press conference at the PyeongChang Alpensia Resort in Gangwon province last week (on 14th), offering opportunities to learn and experience 5G-based integrated/converged services which will be introduced during the 2018 PyeongChang Winter Olympic Games.

Highlights of the Key 5G-based integrated services
Four key ultra-real view services - 2nd test event for PyeongChang 5G trial services

Sync View
Interactive Time Slice
360 ° VR Live
Omni Point View

MR Torch relay and VR Walk Through
Autonomous driving bus and drone delivery service

Initially, KT presented 5G ultra-real view services in its 1st test event held in February 2016, and some more in the second test event that has just started this month. During the 'Hello PyeongChange' test event being held currently (from November 2016 through April 2017), four key ultra-real view services are being offered and verified in real games. During the verification, other latest services by KT including MR torch relay, VR walk-through, 5G-based autonomous driving and drone services were also showcased.

■ Four key ultra-real view services - tested in real games (Rehearsal Games for PyeongChang Olympic)
During the Hello PyeongChang test event (2016.11 - 2017.04), recognized as a rehearsal of the PyeongChang Winter Olympic Games, KT successfully carried out tests of four key ultra-view services in the sports arena.

1) Sync View
Transmits super-high-quality video in real-time using an ultra-small camera, position sensor and mobile communication module, allowing viewers to watch the games from the perspective of players.
Technical verification in real games: on March 14th, Bobsleigh World Cup Training Day hosted by International Bobsleigh Skeleton Federation (IBSF)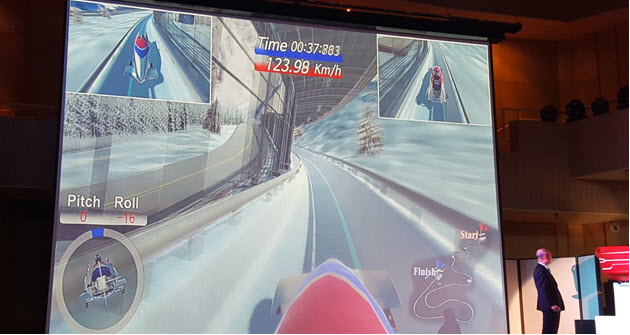 Sync View simulator

2) Interactive Time Slice
All 100 cameras installed in different angles are shooting what's happening, letting viewers interactively choose the screen and angle they want to watch with.
Technical verification in real games: On February 16, during the Four Continents Figure Skating Championships games held by the International Ice Skating Union (ISU), viewers could watch skaters performance in different angles.

3) 360° VR Live
Events are captured and streamed by 360-degree cameras and using Head Mounted Display (HMD) equipment, offering real views of virtually every place in the arena.
Technical verification in real games: On February 16th, during the Four Continents Figure Skating Championships games held by the International Skating Union (ISU), 360 degree views of skaters performing were streamed to viewers in VR zone.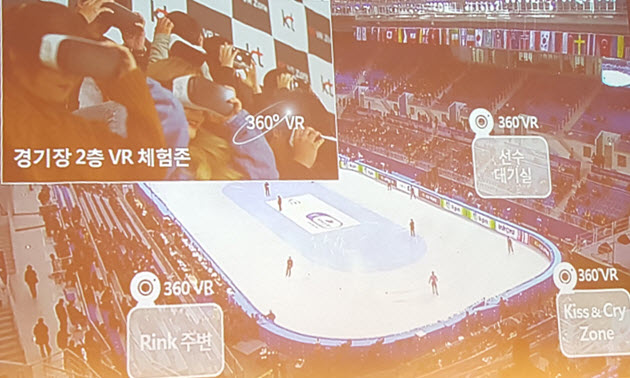 4) Omni Point View
Lets viewers experience the event in virtual 3D space, enjoy 3D virtual view from the perspectives of a player of their choice or at specific points they want on the mobile devices in real time.
Technical verification in real games: On February 4th, viewers were given chances to watch their favorite players' play streamed to their mobile devices from cameras connected to 5G modules installed across the slopes during the Cross Country World Cup games hosted by the International Ski Federation (FIS)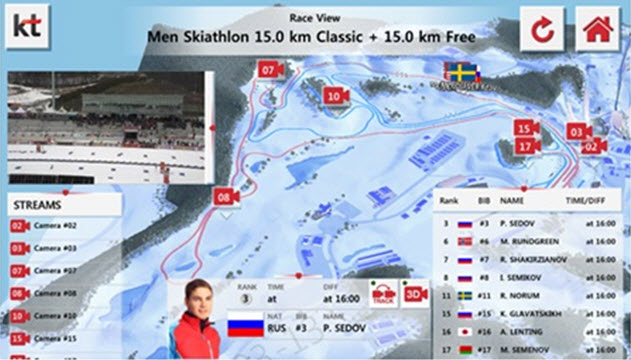 KT will continue to cooperate with international game federation, relevant associations and the Olympic Broadcasting Service (OBS), which oversees the Olympic broadcasting, in order to have the four key ultra-real view services successfully presented in the actual PyeongChang Olympic Games.

■ Mixed Reality (MR) and Virtual Reality (VR)

• MR torch relay
At the conference, Mr. Sung-mok Oh, the head of Network Division at KT, gave a preview of MR torch relay which is under development. MR technology is known to be adopted in the PyeongChang Olympic torch relay. The Olympic flame lit in Greece will travel to Pyeongchang via mobile phone as an virtual image, then on to a real torch in reality, and then back to another torchbearer in the virtual space.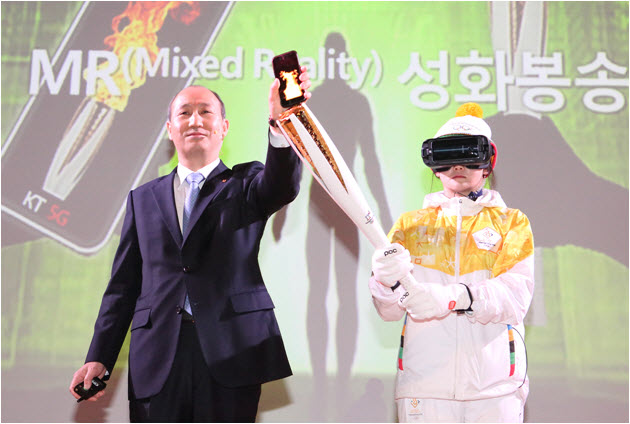 • Virtual Reality Walk Through
KT 's next-generation VR service, 'VR walkthrough', was also unveiled. Unlike VR services so far, which only offered 360 degree views from certain fixed locations, it allows viewers to walk around and experience virtual objects. Viewers with a VR HMD and a real-time 'tracking sensor' (location and motion-sensible) can enter into the virtual reality, where they can be the final runner in the torch relay.


■ Autonomous driving bus
KT gave a demonstration of 5G autonomous driving bus in the 5G test network that it had deployed around the Pyeongchang Alpensia Resort.

The 5G test network, built based on the PyeongChang 5G specification, features distributed core network and advanced C-RAN architectures. With three 5G base stations (two in fixed locations (4-sector and 2-sector), and one in a vehicle (2-sector) operating the network runs in 28 GHz band with the maximum transmission rates of 20 Gbps per cell, and 3.2 Gbps per device.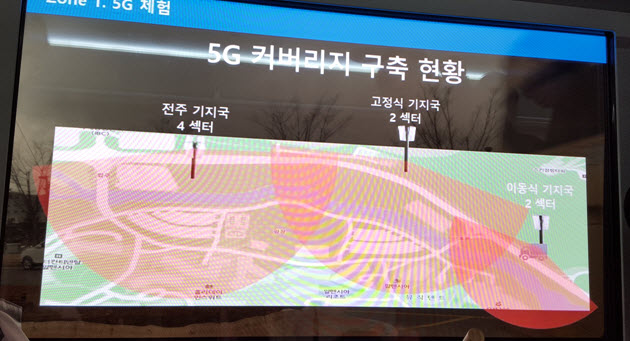 5G coverage around the PyeongChang Alpensia Resort

The 5G bus gives added safety by leveraging information about the locations of other vehicles and obstacles that is being shared by the vehicle control center. Precise positioning-based controlling is possible as DGPS calibration information is collected.
5G autonomous driving functions like safe driving and drone delivery were showcased as well.

• Safe Driving - A vehicle stops after detecting another vehicle approaching in the front.


After detecting another vehicle approaching (in the left), the vehicle stopped (in the right)

• Drone delivery - A self-flying drone delivers a package to a mailbox installed on the road where 5G buses travel so the recipient can pick it up.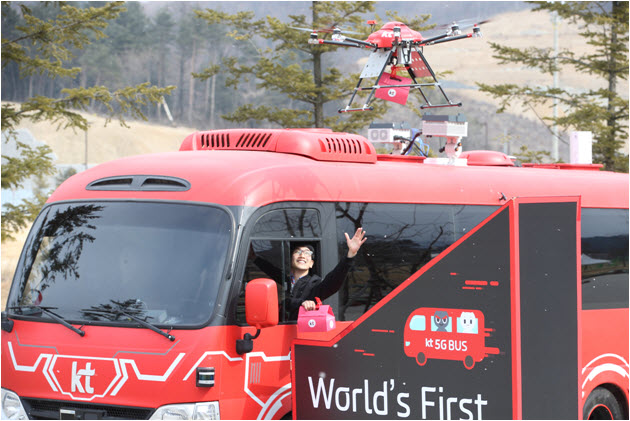 In addition, the 5G bus is equipped with a 'Super-Multi View Interactive System' that allows users to watch 3D images without using any wearables and a hologram live system, letting users experience massive media services.

Mr. Sung-mok Oh, the head of Network Division at KT said "We will ensure that South Korea shows its IT power again by presenting amazing 5G-based services to people all over the world during the 2018 PyeongChang Winter Olympic Games".