KT (CEO Hwang Chang-Gyu) revealed on April 26th that it has succeeded in linking 5G equipment and end terminals, which different makers have each developed, for the 2018 PyeongChang 5G demonstration with Ericsson and Nokia.
In order to display a successful 5G demonstration in February 2018 as the PyeongChang Winter Olympic official telecommunications partner, KT has established PyeongChang 5G standards with global manufacturers in June 2016 and put in tremendous effort to succeed in 5G data transmission for the first time with Samsung Electronics in October 2016.
KT carried out 5G interworking tests in Ericsson headquarters in Stockholm, Sweden and in Nokia headquarters in Helsinki, Finland on April 24th and 25th.
KT, with Ericsson and Nokia, succeeded in connecting each company's 5G network equipment (system) developed as PyeongChang 5G standards and 5G end terminals developed by global manufacturers, such as Intel, during testing.
It was the first time for each company to smoothly transmit 5G network data composed of equipment and end terminals made by different manufacturers.
KT revealed that inasmuch as the 5G end terminal used for testing was the final version for the PyeongChang 5G demonstration, 5G technology development for the PyeongChang Winter Olympics has reached its final stages.
Hereon forth, KT, Ericsson and Nokia will go through the last stage of 5G network equipment functional improvement, and decide and produce equipment to be used in the actual 5G demonstration. In the latter half of the year, network for 5G demonstration will be built arduously.
KT is set to meet with Ericsson and Nokia's best technical field executive team and cooperate for core technology development and standardization for standard 5G commercialization and completion of Intelligent Network.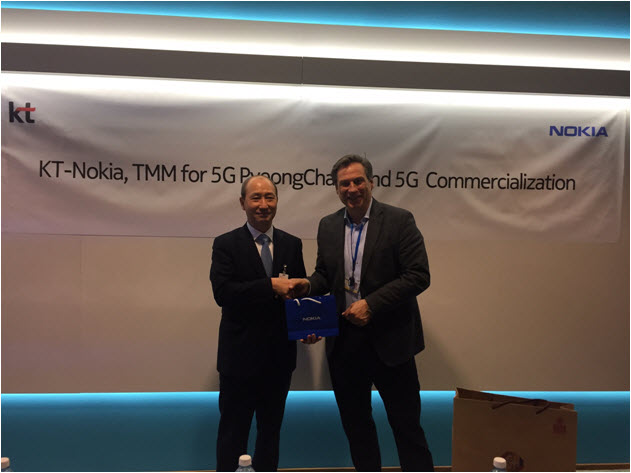 KT, with Ericsson and Nokia, is planning to separate the base station and network equipment into virtual forms to develop a Virtual Network technology that can effectively build a 5G network and a Network Slicing technology that classifies and selects a network based on the service that a user chooses.
KT, Ericsson and Nokia are particularly cooperating to develop beam forming and beam tracking technology that can overcome short coverage that is characteristic of high frequency bandwidth such as 28GHz, and technology that connects 5G and 4G (LTE). KT hopes to use its know-how formed from building and operating 5G test network in all of PyeongChang (of Gangwon-do Province) and Gwanghwamun in this endeavor.
KT Network Department President Oh Sung-Mok said, "The 5G demonstration to be showcased in PyeongChang needs to have prior verification of stability, multiple service, and connection between system and end terminal manufacturers. We will simultaneously approach completion of PyeongChang 5G test network through reinforcement of Ericsson and Nokia's cooperation and pioneer technology development for a successful commercialization of 5G."
Fredrik Jejdling, in charge of Ericsson Network Division, stated, "Since signing a MOU with KT in 2015, Ericsson has cooperated very closely with KT" and claimed, "Ericsson plans to put in tremendous effort to ensure that KT will successfully showcase a 5G demonstration at PyeongChang in 2018 using Ericsson's 5G capability."
Nokia 5G Development Manager Graham Harold stated, "We are happy to prepare for the PyeongChang 5G demonstration together with KT. Nokia will cooperate fully in its PyeongChang 5G equipment development, and interworking testing and equipment provision and timely building."