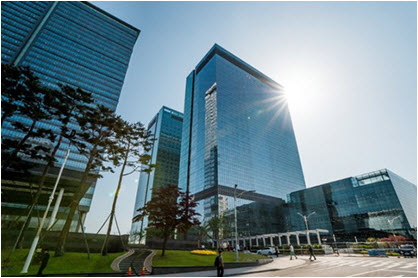 Today, Samsung Electronics established the Samsung Automotive Innovation Fund, a new $300-million fund focused exclusively on the automotive market. The Samsung Automotive Innovation Fund will focus on connected car and autonomous technologies, including smart sensors, machine vision, artificial intelligence, high-performance computing, connectivity solutions, automotive-grade safety solutions, security, and privacy.
In addition to the fund, HARMAN, which was acquired by Samsung earlier this year, has established a new Autonomous/ADAS Strategic Business Unit (SBU). The new HARMAN SBU, which will report to HARMAN's Connected Car division, will work with the Samsung Strategy and Innovation Center (SSIC) Smart Machines team to develop key technologies for safer, smarter, connected vehicles. The SSIC Smart Machines team is an advanced automotive engineering group dedicated to enabling next-generation mobility solutions.
"During this period of extraordinary transformation in the automotive industry, we are excited to play a leadership role in supporting and shaping the future of smarter, more connected vehicles," said Young Sohn, President and Chief Strategy Officer of Samsung Electronics and Chairman of the Board of HARMAN. "The Autonomous/ADAS Strategic Business Unit and automotive fund reflect the company's commitment to the values of open innovation and collaboration. In partnership with OEMs and startups, we will make the driver and passenger experience safer, more convenient, and more enjoyable."
According to the World Health Organization, road injuries are among the top 10 causes of death worldwide.1 In the U.S. alone, the most recent data suggests that there are more than 35,000 fatal crashes each year.2 Samsung's goal in the automotive market is to tackle this challenge by bringing to market technologies, from sensors to data-processing solutions, that will help make cars safer while creating a more comfortable and convenient mobility experience.
To address the increasing demand for integrated solutions, particularly those for automated driving, Samsung and HARMAN will focus on engineering, high-performance computing, sensor technologies, algorithms, artificial intelligence, as well as connectivity and cloud solutions that enable Advanced Driver Assistance Systems (ADAS) and automated driving.
"There is already a high demand for ADAS solutions, and that demand is rapidly growing with the advancements in connected cars and autonomous driving," said Dinesh Paliwal, President and CEO of HARMAN. "This strategic business unit demonstrates Samsung's and HARMAN's commitment to answer that call – to be the definitive partner for seamless and integrated technologies. It also reflects the incredible power that Samsung and HARMAN, as a collective force, will bring to our OEM customers as we combine Samsung's scale and resources with HARMAN's deep automotive experience and networks. Together, we are driving the future of automotive."
Industry veteran John Absmeier has been appointed Senior Vice President of the new HARMAN SBU, and will also retain his current role as Vice President of Smart Machines for SSIC. As a leader in both organizations, John Absmeier will ensure seamless collaboration to bring Autonomous and ADAS solutions to the market.
The first strategic investment of the Samsung Automotive Innovation Fund will be in TTTech, a leader in functional safety, deterministic networking, real-time systems, and complex software integration for ADAS and an automated driving platform. Earlier investments by Samsung's existing investment funds have included stakes in automotive startups, including AImotive and Renovo for automated driving; Quanergy, TetraVue, and Oculii for sensors; Autotalks and Valens for connectivity; and Graphcore for high-performance computing.
To date, Samsung has secured licenses for on-road testing of autonomous driving software and hardware under development in Korea and California. Samsung will not enter the car-manufacturing business, remaining focused on working with automakers and mobility enablers to develop the next generation of automotive innovation.