Achieved 3.6 Gbps speed at 28 GHz band for a connected vehicle moving at 170 Km/h through the application of SK Telecom's advanced beamforming and beam tracking technologies
Expect the enhanced data communication speed to improve stability and safety of connected car, and realize realistic media services
---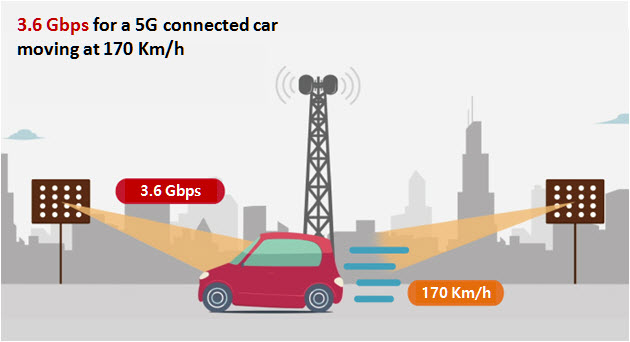 (source: SK Telecom)
SK Telecom today announced that it, together with Ericsson and BMW Korea, has realized a peak rate of 3.6 Gbps for a connected vehicle travelling at a speed of 170 Km/h.
The demonstration took place at BMW driving center located in Yeongjong Island, Incheon, where the three companies have successfully deployed the world largest mmWave 5G trial network using the 28 GHz band and demonstrated the world's first 5G-based connected car in November 2016.
Through the application of its advanced beamforming and beam tracking technologies, SK Telecom was able to address the limitations of millimeter wave bands stemming from the fact radio waves in these bands use high gain and high directivity antenna, which causes signals to be often blocked by _objects standing in their path and have smaller coverage.
The 3.6 Gbps of data rate realized today by the three companies significantly enhances the stability of connected car services by improving image recognition and V2X (Vehicle to Everything Communication) technologies. That is, a vehicle will be able to communicate, in real time, with other vehicles, traffic lights and surveillance cameras to understand and respond to unexpected situations and obstacles and remain within the lane in a much shorter time.
Moreover, the ultra-high transmission speed at millimeter waves is expected to have a huge impact on all 5G use cases including augmented reality (AR), virtual reality (VR), drones and robots. For instance, companies will be able to develop innovative 5G services, including a service that allows users to watch VR content within a moving bus or a drone that sends real-time video of a disaster-stricken area to provide a better understanding of the situation.
Furthermore, with much faster transmission speeds over the 5G network, media services including 4K UHD image, VR live broadcast and 3D video services will experience further improvements.
Meanwhile, in January 2017 SK Telecom has announced its plans to build a "New ICT Ecosystem," which encompasses 1) autonomous driving and connected car, 2) AI and big data, 3) smart home, 4) energy management, 5) media, and 6) global content.
"Connected car is regarded as the barometer for 5G as it can only be realized through the combination of all 5G technologies. As ultra-high speed and ultra-low latency are prerequisites for realizing autonomous driving and immersive media services, the 3.6 Gpbs transmission speed we successfully demonstrated today not only brings us a step closer to realizing autonomous driving, but will also have a great impact on a broader range of industries." "SK Telecom will continue to work closely with global players to develop 5G technologies and launch innovative 5G trial services."