Samsung Electronics Co., Ltd., a leading provider of mobile broadband networking solutions, announced its C-RAN2.0 solution - an enhanced Centralized RAN (C-RAN) platform designed for radio performance enhancement as well as additional cost savings for operators.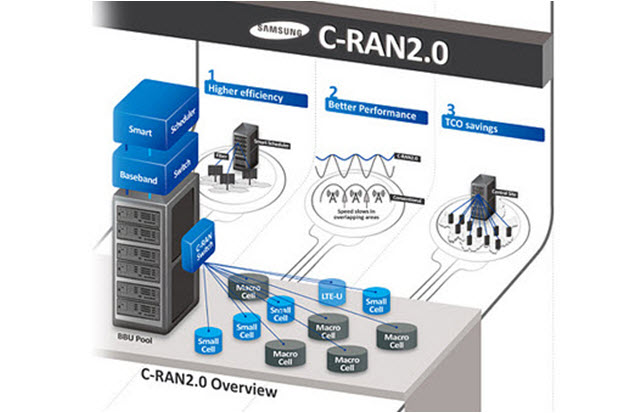 C-RAN2.0 builds upon Samsung's successful C-RAN solution which relocates baseband units (BBUs) – the equipment used to process transmission signals – from each base station to one or more centralized locations. Major two new innovations of C-RAN2.0 are baseband capacity pooling and baseband clustering.
Baseband pooling represents a new line of defense against data spikes that are often the result of large gatherings, such as concerts, festivals or sporting events. It works by allowing the network to efficiently aggregate its baseband resources across a large cluster of cells and introducing dynamic capacity management.
This is made possible by Samsung's newly developed C-RAN switch, which enables dynamic routing of traffic between cell sites (remote radio units) and the centralized BBUs. The C-RAN switch also provides significant energy savings by de-activating BBUs during times of low network load. As a result, it brings critical value to operators in terms of network reactivity, flexibility and scalability.
The second new innovation, baseband clustering, enables very fast and efficient coordination between BBUs, improving cell edge performance and facilitating the introduction of advanced scheduling features, such as coordinated multi-point (CoMP) and inter-site carrier aggregation.
In a typical network with carrier aggregation, a user device can connect to multiple frequencies, or carriers, but only from a single cell site. In many situations, however, the coverage patterns and signal propagation of these frequencies may be different, potentially leading to sub-par performance. C-RAN2.0's baseband clustering enables Samsung's Best Cell Aggregation feature, which allows a user device to select the best signals available, even across multiple cell sites. For users, this results in a more consistent mobile experience as they move through the network.
"Samsung's C-RAN2.0 is well-suited for city deployments where there are constraints in site procurement despite continuing demand for improved network coverage and performance," Joonho Park, Senior Vice President and head of Global Sales & Marketing, Networks Business. "In these situations, densification is a high priority, and C-RAN is optimally designed to enable rapid deployment with a significantly smaller footprint that a traditional distributed base station. C-RAN2.0 adds another level to this by introducing significant and competitive capability enhancements to the C-RAN architecture."
Key highlights of Samsung's CRAN2.0 Solution for LTE
C-RAN2.0 provides the following benefits to the mobile operator:
The centralized BBU site configuration results in operational benefits from easy and convenient maintenance, fewer site visits and maximal utilization of high-capacity BBUs
For cell sites, a simplified deployment (RU and antenna only, without BBU and cabinet) generates OPEX savings due to reduced site leasing costs and lower power requirements over a smaller footprint
C-RAN2.0 facilitates resource sharing and expandability via BBU pooling, making it possible to enhance system reliability and radio resource management
Baseband pooling provides TCO savings through greater network efficiency in capacity utilization where resources can be dynamically allocated to areas with high traffic requirements; this is also useful for high traffic events where large crowds gather in tight areas, traditionally causing traffic congestion
C-RAN2.0 provides additional enhancements to key performance features such as carrier aggregation, with improvement to cell edge throughput of up to 50%
News Source: Samsung Electronics
Web Site: http://www.samsung.com/