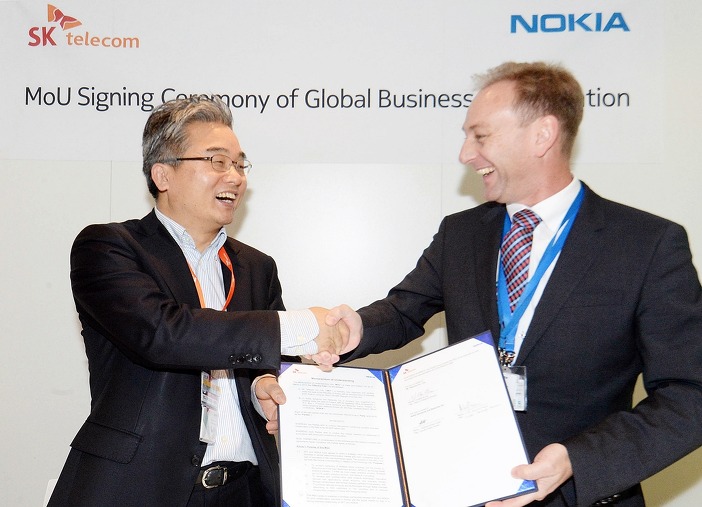 SK Telecom announced today that it signed MOUs with a number of overseas companies while participating in the 2015 GSMA Mobile World Congress being held in Barcelona, Spain.

Aimed at expanding its presence in the global markets with extensive knowhow and experience in industry-leading mobile network technologies, SK Telecom has entered into MOUs with three different companies namely Taiwan Mobile, Skytel and Nokia Networks.
.
Under the MOU with Taiwan Mobile, a leading telecommunications company in Taiwan with about 28 percent of market share, SK Telecom will share its know-how on better LTE network performance and customer experience management (CEM) aimed at enhancing Taiwan Mobile's network efficiency and competitiveness in mobile broadband service. The two companies will also work together to develop next-generation mobile network technologies and mobile solution business.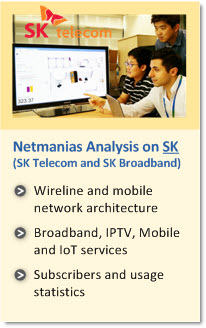 SK Telecom and Taiwan Mobile have cooperated since 2013 in 3G and LTE network planning and performance optimization. Taiwan Mobile has successfully commercialized LTE in June 2014 and has attracted more than 1 million LTE subscribers, which accounts for over 30 percent of the LTE market, within only six months of the service launch.

SK Telecom has also entered into an MOU with Mongolia's Skytel. Through the MOU, SK Telecom will provide Skytel with consulting service in LTE network technologies and network-based solutions developed by SK Telecom to enable real-time management of customer experience. The MOU is expected to serve as a chance for Skytel to become a leading LTE service provider in Mongolia, where spectrum allocations for LTE will likely take place within this year.

Moreover, SK Telecom and Nokia Networks have signed an MOU in Barcelona to further expand their collaboration in exporting diverse network operational solutions. By joining hands with Nokia, SK Telecom aims to create new opportunities in the overseas markets by providing its network operational knowhow to Nokia's 600 plus customers spread across 150 nations.

"Since launching Korea's first LTE service in 2011, SK Telecom has led the industry by introducing advanced mobile network technologies including Multi-Carrier, LTE-Advanced and tri-band LTE-Advanced Carrier Aggregation," said Lee Jong-bong, Executive Vice President and Head of Network Division at SK Telecom. "We will make ceaseless efforts to keep enhancing the quality and stability of our mobile networks to provide the highest level of customer experience, and share it with mobile operators around the world."
News Source: SK Telecom
Web Site: http://www.sktelecom.com/