Samsung Electronics and SK Telecom to jointly develop SDN PoC for LTE Core Network
Samsung Electronics announced on the 25th that it will partner with SK Telecom, to develop a Software Defined Networking (SDN) proof of concept (PoC) for an LTE Core Network. Both companies have recently announced their plans to develop virtualized, software-based networking solutions.
SDN is one of the hottest, and most interested next generation technologies, and many global players have been paying keen attention to development of new SDN solutions and services.
SDN is designed to separate control and data plane in network equipment, in order to create more efficient data transmission routes.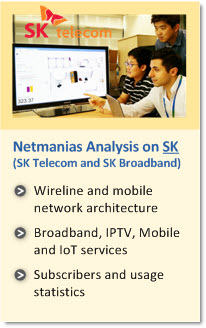 An SDN-enabled Evolved Packet Core (EPC) solution is known for the ability to offer optimized traffic routes according to types of subscribers and services, without having to go through the core network.
Using this solution, operators can determine the shortest routes for data delivery, improve QoE, and reduce undesired network overload. In addition, they can handle network fault fast and keep investment costs down.
What is great about SDN is that it can offer different and flexible network services to each subscriber according to their selected plans (Network as a Service), while still using the current network (Network Slicing).

Because of these benefits, large-scale organizations like corporations, universities, public institutions, etc. can enjoy the convenience of using private network services through the networks already built by operators, without the hassle of building a new network themselves.
Plus, SDN is expected to significantly lower the risk of data leakage because it allows for delivering of important, confidential data directly via base stations nearby, instead of delivering through the public Internet network. So, it can be useful for large-scaled organizations like corporations, hospital, public institutions, etc.
Also, because SDN makes sure data travel via the shortest routes near the base station, lower latency can be achieved. This will make many real-time, latency-critical data services to be available in the coming 5G era, like cloud games, remote driving, etc., a reality.

The two companies plan to lead the next generation network innovation in the global market, through cooperation in development of SDN-enabled EPC equipment and standardization by October.
Jin-hyo Park, Head of Network Technology Center at SK Telecom noted, "SDN is one of the key next generation technologies for innovation of network and cloud infrastructure of operators." He continued, "We are planning to effectively accommodate ever-increasing mobile data traffic through new EPC equipment development, and offer differentiated multimedia service experiences."
"Software-based technologies such as Network Function Virtualization (NFV) and SDN are key enablers for innovative services and efficient network operations," said Dong-Soo Park, Executive Vice President and Head of R&D for Network Business at Samsung Electronics. He added that, "Samsung continues to look at how the latest industry technologies can benefit network operators and enable the next generation of innovative user services and applications".