KT's GiGA Internet subscription reached 500,000 in just 9 months - all driven by Chairman Hwang's initiative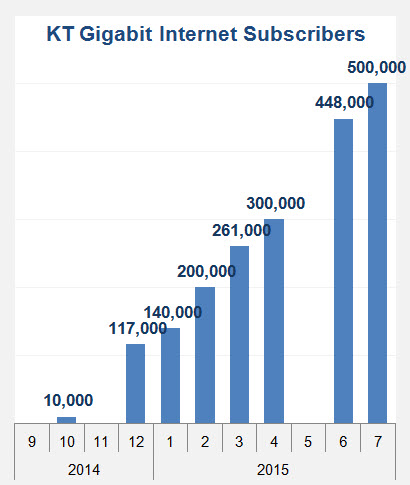 After only 9 months of service, KT's GiGA Internet subscription exceeded 500,000. And this sure gives an extra boost to Chairman Chang-gyu Hwang's 'GiGAtopia'. In the second half of 2014, KT launched 4 different giga services, and now is ready to expand its business to IoT service.
KT announced on the 4th that it had over 500,000 users subscribing to 'Olleh GiGA Internet' that features Giga-class speeds - 10 times faster than the conventional Internet (maximum 100Mbps). The company launched the service last October for the first time in Korea, and then began GiGA WiFi home service back in March this year. For 5 months after GiGA Internet service launch, KT had just about 200,000 subscribers. But, then after the launch of GiGA WiFi home, the subscription grew drastically, adding 300,000 subscribers in just 4 months.
Of all subscribers, 49.4% were residents in Seoul metropolitan area and 50.6% were in other areas. It was younger users who have contributed the most to such rapid expansion of GiGA Internet service. Users under 50 years of age account for 66.6% of the total GiGA Internet subscription, which is up from 57.9% of the conventional Internet subscription. On the other hand, users over 50 account for 33% of the total, down from 42% of the conventional Internet subscription. It seems younger users who tend to be more sensitive to data speeds switched to GiGA Internet more.
Thanks to the great performance of GiGA Internet service, Chairman Hwang's GiGAtopia vision is now gaining momentum. Back in May 2014, Chairman Hwang declared GiGAtopia vision which includes a plan to invest KRW4.5 trillion over the following 3 years to build wired/wireless giga infra. Since then, KT has commercialized a series of GiGA services - GiGA UHD TV (in Sep. 2014), GiGA Internet (in Oct. 2014), GiGA WiFi home (in March 2015), and GiGA LTE (in June 2015).
Now, KT's next target is 'GiGA IoT'. KT has already been providing some IoT services in areas like automobile, industry, energy, etc. With all the experiences and know-how accumulated, it is aiming to launch 'GiGA IoT' service targeting smarthomes. The company said, by taking advantage of giga Internet infra well-established at almost every home, it would offer differentiated home IoT services, something that are integrated with future-oriented business like big data analysis, smart energy, intelligent traffic control, smart healthcare, etc., rather than offering a mere series of individual IoT services.
"To keep the popularity of GiGA service growing, we are planning to release GiGA IoT service by the end of the year," KT said. "A variety of IoT services that can be used in our every day life, like GiGA Fitness, GiGA HomeCam, etc., will be available soon."
Related Netmanais Content: Netmanias One-Shot
KT GiGA Subscribers Growth (Q2 2015) [pdf]