SK Telecom's Cloud AC, a cloud-based Wi-Fi management equipment, has been chosen as the winner of "Best Wi-Fi Network Infrastructure"
---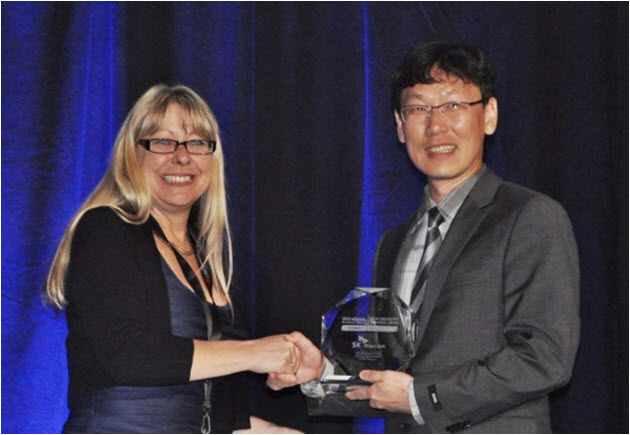 SK Telecom announced today that it has been chosen as the winner of the "Best Wi-Fi Network Infrastructure" with its 'Cloud AC (AP Controller)' at the 2015 Wi-Fi Industry Awards* held on October 14 in San Jose, California.

*Organized by the Wireless Broadband Alliance (WBA), the Wi-Fi Industry Awards is marking its fourth year as the only global award that recognizes great innovations across the Wi-Fi industry.

SK Telecom's 'Cloud AC' is a network equipment that manages Wi-Fi traffic through a virtualized server. As opposed to the existing network equipment that entails physical installation of servers to handle Wi-Fi traffic in congested areas, Cloud AC creates a virtualized server using idle resources of the already-installed Wi-Fi servers, thereby enhancing the operational efficiency of servers.
The company has commercialized Cloud AC for the first time by remotely controlling/managing Wi-Fi APs of Jeju International Airport through its Cloud AC server. Then it has further proven the effectiveness of Cloud AC in handling data traffic surges that occur within a limited time_frame by using it to flawlessly handle data traffic at Summer Universiade Gwangju 2015, held in July.

With this year's award, SK Telecom has received the Wi-Fi Industry Awards for three consecutive years since 2013, solidifying its image as a global leading player in Wi-Fi technologies. It received the "Best Wi-Fi Service Innovation" category in 2013 and the "Best Next Generation Hotspot (NGH) Initiative" category in 2014.

"SK Telecom is delighted to receive this prestigious award as it recognizes our strenuous efforts to develop innovative Wi-Fi technologies," said Park Jin-hyo, Senior Vice President and Head of Network Technology R&D Center at SK Telecom. "We will continue to lead innovations in this field to deliver the best network experience to our customers."