SK Telecom announced its participation in the 2016 GSMA Mobile World Congress to be held from February 22 to 25, at Fira Gran Via, Barcelona, Spain.
Reflecting its strong determination of transforming itself as a platform company based on its unrivalled competitiveness in telecommunications, SK Telecom has set this year's theme as "Dive into the Platform," and will be showcasing a wide variety of innovative technologies and services in the areas of Life Enhancement Platform, Media Platform and IoT Platform, along with industry-leading 5G enabling technologies.
Life Enhancement Platform
SK Telecom is promoting the development of its Life Enhancement Platform to add innovative value to all areas of people's daily lives. The company will introduce products and services, including wearable kids phone 'T Kids Phone,' pet care services namely 'T Pet,' 'Petfit,' 'BallReady,' and 'Friendsbot,' integrated call platform 'T Phone,' and laser pico projector 'UO Smart Beam Laser 2'.
In particular, SK Telecom will unveil the prototype of Smart Beam Laser 2 for the first time at MWC 2016. Applied with advanced laser light source technology, the device provides a brightness of 200 ANSI Lumens, two times brighter than its predecessor and powerful enough to be used both indoors and outdoors. Also, other units like high-quality speaker and external battery can be simply added to the device like blocks.
The company will also display T Phone, and open key APIs/technologies of the platform to enable global mobile carriers and platform companies to create a wide variety of new value-added services based on T Phone.
Media Platform
SK Telecom will showcase a number of solutions that can be applied to many areas of the media from amateur individual broadcasting to professional broadcasting stations.
For instance, '8K UHD Super Encoder,' developed for professional broadcasting facilities, is capable of compressing ultra-high definition video (four times clearer than 4K UHD) within a much shorter period of time and seamlessly transmitting it to IPTV or smartphones. SK Telecom expects the solution to become a core technology for reducing network overload in the near future when 8K UHD TV and UHD mobile devices become available in the market.
Introduced for the first time at this year's MWC, 'Mobile Social Broadcasting Platform' supports live broadcast of UHD video over LTE network. It perfectly supports communication between a producer and a viewer by reducing latency to less than seconds, and provides a feature that allows the producer to deliver advertisement, multimedia content and messages during programs. The company plans to apply it to diverse video platforms within this year.
'Cloud Streaming' is a solution that uses virtualization technologies to allow even legacy/low-end set top boxes to offer advanced user interfaces and services. The solution is drawing interest from Europe and Latin America where the spread of IPTV is taking place at a sluggish pace due to initial investment costs in set top boxes.
IoT Platform
SK Telecom is setting a milestone in the IoT era by exhibiting an end-to-end IoT ecosystem encompassing IoT platform, network and solution.
At MWC 2016, SK Telecom will showcase ThingPlug, an open IoT platform based on international standards. Launched in June, 2015, ThingPlug offers a one-stop development environment as well as diverse application-enabling features for developers.
To date, SK Telecom has developed diverse IoT networks such as Narrow-Band IoT (NB-IoT), which utilizes the existing LTE network, and Low Power Wide Area (LPWA), an exclusive network for IoT. The company will demonstrate a bicycle monitoring service that operates over the LPWA network. As opposed to the existing bicycle monitoring services that use IoT devices attached with 3G modules, thus resulting in high line cost and battery power issues, SK Telecom's service that works over the LPWA network effectively prevents bicycle theft by enabling low-power tracking of bicycle locations. At present, public institutions in Korea that operate a large number of bicycles are showing great interest in this service.
Moreover, SK Telecom will introduce its name IoT services/solutions such as Smart Home and connected car service 'T2C(Tablet to Car)', co-developed with Renault Samsung Motors. The company, which has already launched 25 different Smart Home-compatible home appliances in Korea, will introduce devices optimized for Europe and North America - including wallpad, robot vacuum cleaner, humidifier and air purifier - to promote export of these products.
SK Telecom will introduce its tablet navigator T2C. It serves as a personal tablet when removed from the holder and works as a smart infotainment system when connected to the car. Using LTE connectivity, T2C offers not only navigation service, but also music and vehicle management/inspection services to enhance driving experience. The company plans to evolve T2C into a device that creates an office environment within a vehicle and supports communication with other vehicles.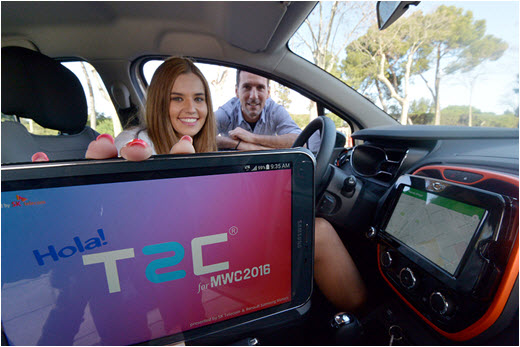 5G Enabling Technologies
At MWC 2016, SK Telecom and Nokia will demonstrate 20 Gpbs transmission speed over the air – which meets the performance requirement of 5G set by the International Telecommunication Union (ITU) - for the first time in the world. Following its display of a disaster-response robot last year, SK Telecom will showcase diverse use cases over the 5G network.
Also, SK Telecom will demonstrate a 3D hologram image to realize realistic communications, which will become widespread in the 5G era. The company will also unveil first 5G device prototype that will support communication between vehicles, the core enabler of autonomous vehicles. Moreover, it will demonstrate Virtual Reality (VR) games, which involve transmission of massive amount data – over its 5G network.
SK Telecom plans to lead the upcoming 5G era by working closely with diverse partners across the globe and suggesting how the 5G network will be used as the enabling infrastructure of all future technologies.