As if Q3 2016, Korea has remained the country with the world's fastest average Internet speeds for 11 quarters in a row, and also with the highest broadband Internet adoption rates, proving its unsurpassed leadership in the global Internet market.
Akamai's Q3 2016 report, 'State of the Internet', found Korea has the fastest average Internet speeds, with 26.3 Mbps (28% YoY increase), followed by Hong Kong and Norway with 20.1 Mpbs and 20.2 Mpbs, respectively. The world's average speeds were increased to 6.3 Mbps (21% YoY increase).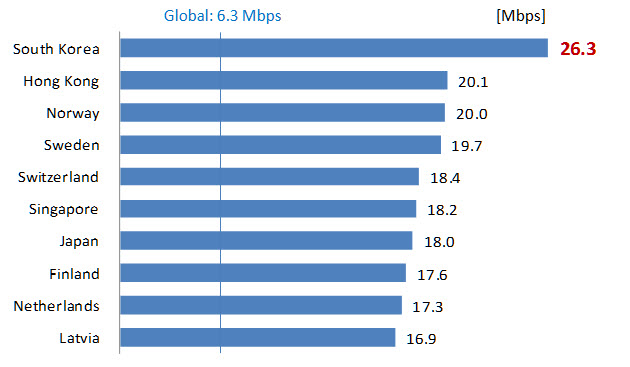 Average Internet speed (Mbps) as of Q3 2016
Korea also remained its No. 1 position on broadband Internet adoption rates in all band categories as seen below (see the global rates as well):

Broadband Internet adoption rates (% Above) as of Q3 2016
The leading position on IPv6 adoption rates, however, went to Begium, with 39%, followed by Greece and Germany with 25% and 22%, respectively. Six out of the Top 10 in this category were European countries while India was the only Asian country who made the top 10. Korea was ranked as #35 with 1.2%.