KT is establishing an environment where anyone in South Korea can use 1Gbps GiGA-Internet by applying many innovative technologies.

KT introduced a blueprint of 'GiGA-Internet 2.0' with such information on the 29th.

Goal of GiGA-Internet 2.0 is to help South Koreans to use speed that is greater than 1Gbps. It is going to increase speed by introducing innovative technologies to current facilities and is going to expand coverage of GiGA-Internet to 95% by actively establishing network.

Its plan is to provide differentiated infrastructures that allow contents with ultra-high capacities such as UHD videos and 5G to freely move around and to secure an upper hand in 4th industrial revolution.

KT chose 'GiGA-Wire 2.0' as the main technology that implements GiGA-Internet 2.0. This technology applies ITU's (International Telecommunication Union) standardized technologies and its goal is to increase transmission speed of current telephone lines from 500Mbps to 1Gbps. This can greatly increase coverage in mountainous regions where it is difficult to bury new optical cables or areas with old apartments.

Along with this, current GiGA-internet that is based on optical cables will be upgraded to '10 GiGA-internet' that is 10 times faster. KT is going to increase range of demonstration service to Seoul and major other metropolitan cities starting from next year and push forward timing of commercialization.

Based on these innovative technologies, KT is going to establish network so that 18.8 million households in 85 cities can use GiGA-internet by end of next year. Its immediate goal is to cover 9.8 million households that live in 27,000 apartment complexes. Afterwards it is going to add 9 million households from houses and business complexes so that 95% of households from 85 cities can use GiGA-internet. Starting from 2014, it is going to invest total of $4.09 billion (4.5 trillion KRW) for 3 years.

Beside this, KT is also going to commercialize 'GiGA-Wi-Fi 2.0' that increases speed of Wi-Fi up to 1.7Gbps. This will provide speed that is 2 times faster than speed that is used within 80MHz, which was used from 5GHz bandwidth that is current Wi-Fi frequency. Up to 200 people can connect at the same time and its coverage is also improved greatly.
"GiGA-Internet will be the key that allows all fields in ICT (Information Communication Technology) to grow evenly." said President Lim Heon-moon of KT's Mass.

Based on the 20th of September, number of members of KT's GiGA-Internet surpassed 2 million. KT is planning to increase this number to more than 3 million by end of next year.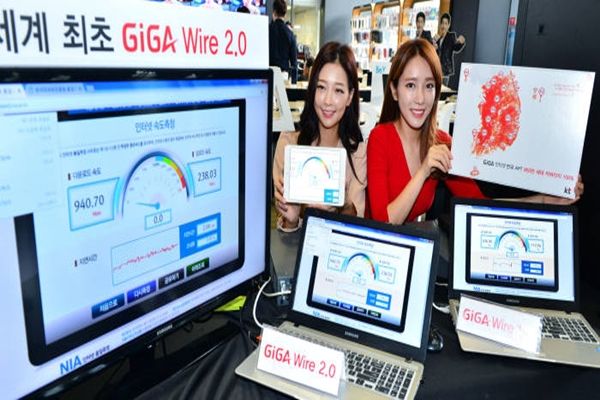 ​
<KT celebrated number of members for GiGA-Internet surpassing 2 million at KT Square in Gwanghwamun Gate on the 29th and declared GiGA-Internet 2.0 generation. Models are introducing 'GiGA-Wire 2.0'. Staff Reporter Yoon, Seonghyeok | shyoon@etnews.com>