SK Telecom today announced that – through collaborations with Samsung Electronics and Nokia - it has successfully demonstrated 5G communications using the 3.5GHz band for the first time in Korea.
• SK Telecom - Samsung Electronics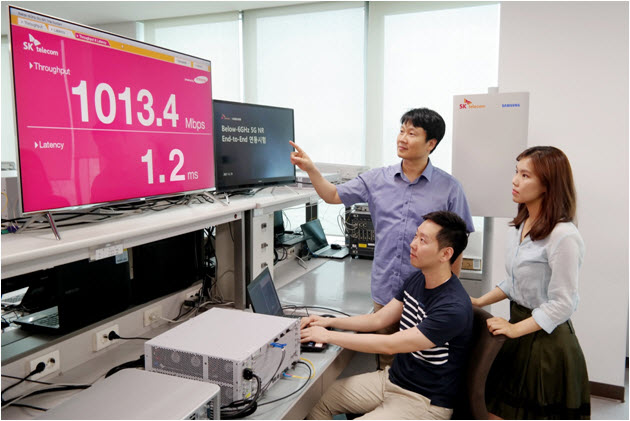 SK Telecom joined hands with Samsung Electronics to develop a 3.5GHz 5G end-to-end network- comprised of 5G virtualized core, virtualized RAN, Distributed Unit (baseband unit and radio unit) and test device - based on the 3GPP 5G New Radio (5G NR) standards elements established to date.
3GPP has agreed upon the key physical component technologies – i.e. numerology, frame structure, channel coding, etc. - of the air interface, and based on this 3GPP NR specification, the two companies' 5G NR system is built with a subcarrier spacing of 60 kHz, Transmit Time Interval (TTI) length of 0.25ms to reduce latency, subframe structure that simultaneously supports downlink data and uplink feedback, and Low-Density Parity-Check (LDPC) channel coding for high-speed data communications. The two companies successfully completed the 5G end-to-end network trial using the 3.5GHz spectrum at Samsung Electronics' R&D Center located in Suwon, Korea.
• SK Telecom - Nokia
Moreover, SK Telecom has also worked with Nokia to co-develop 5G base station equipment and test device for the 3.5GHz spectrum and successfully realized Gbps-level throughput during a field trial held near its Bundang Office Building through the application of carrier aggregation techniques to expand bandwidth. The two companies also measured link quality (BLER) depending on the distance between a moving vehicle and base station, thereby securing important data for designing optimal 5G commercial networks in the 3.5GHz band.
Going forward, with the aim to secure key 5G technologies for early commercialization of 5G networks in the 3.5GHz band, SK Telecom will continue to work with Samsung Electronics and Nokia to further enhance transmission speeds, expand coverage and improve communication stability while on the move.
Through successful trials of 3.5GHz 5G networks, SK Telecom has secured all essential technologies to deploy 5G networks using above-6GHz and below-6GHz frequencies. 28GHz, a potential above-6GHz frequency in Korea, can support several tens of Gbps through the use of a wide bandwidth of more than several hundreds of MHz. On the other hand, 3.5GHz, one of the below-6GHz frequencies, can provide a stable coverage in wider areas.
SK Telecom plans to roll out its 5G networks by leveraging the respective strength of these frequencies: It will deploy commercial 5G networks using 28GHz in downtown areas where data traffic is most concentrated, while covering wide areas with 3.5GHz 5G networks or a combination of 3.5GHz and 28GHz 5G networks.
"With the successful demonstration of 5G communications using the 3.5GHz spectrum, SK Telecom has secured all key technologies for building commercial 5G networks using 3.5GHz and 28GHz frequency bands," said Park Jin-hyo, Senior Vice President and Head of Network R&D Center of SK Telecom. "We will maintain our leadership in 5G by enhancing our technologies for both above-6GHz and below-6GHz frequencies, while playing an active role in the standardization and commercialization of 5G technologies."
"We achieved another milestone today, taking 5G in to the sub-6GHz spectrum for use cases and applications requiring wider area network coverage. The below 6GHz spectrum has been identified by the industry as ideal for enabling 5G services such as autonomous/connected car that require a wider area network," said Park Dong-soo, Executive Vice President and Head of Global Sales & Marketing Team in Networks Business, Samsung Electronics. "Today's trial with SK Telecom serves as a significant development in our collaborative efforts to accelerate 5G commercialization."
"We are pleased to collaborate with SK Telecom on their journey towards 5G deployment. The 5G technology will enable a number of use cases such as critical machine-type communications, Internet of Things (IoT), Augmented Reality and Virtual Reality. This demonstration on 3.5GHz band is a crucial step in the development of 5G ecosystem as it will enable increased data speeds and comprehensive coverage. Nokia is committed in future technology advancement and our partnership with SK Telecom will accelerate the development of the global 5G ecosystem," said Andrew Cope, head of Nokia Korea.