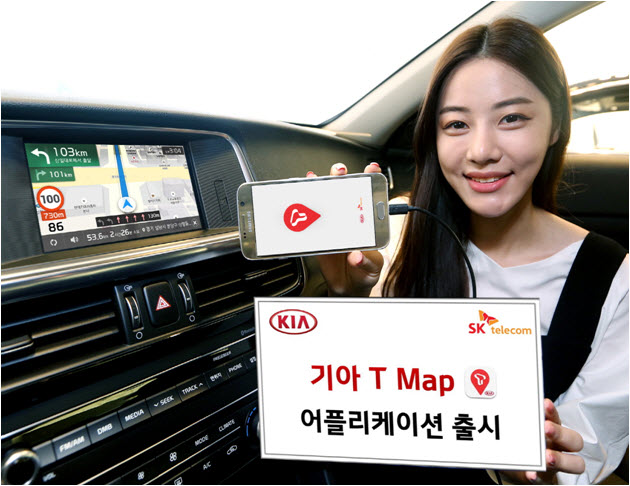 SK Telecom today announced that it unveiled 'T map for Car,' an innovative connected car service based on its mobile navigation app 'T map', at 2016 Busan International Motor Show to be held from June 3 to 12 at Busan Exhibition and Convention Center (BEXCO), Korea. The company also said that T map for Car will be applied to KIA K5 (Optima) – under the name 'T map for KIA' - from July 2016 and Jaguar Land Rover F-Pace – under the name 'T map for JLR' - from September 2016.

'T map for Car' is Korea's first connected car service that links a mobile navigation service/app to an in-vehicle navigation system. With the mobile 'T map' app, which is based on GPS (and base station, etc.), information is updated in real time. However, it is difficult to determine the accurate location when the vehicle is located in tunnels or underground areas. In addition, although in-vehicle navigation system calculates the location of the vehicle using dead reckoning technology*, it does not provide real-time information updates. SK Telecom's T map for Car combines the strength of the two navigation systems to offer more accurate navigation information regardless of vehicle location and time.

* Dead Reckoning is the process of calculating one's current position using the vehicle's odometer
T map for Car enables drivers to use T map, the most popular mobile navigation app in Korea, on their In-Vehicle Infotainment System (IVI) screens by mirroring their mobile device screens through a USB cable. Compared to the existing mirroring services that simply duplicated the mobile home screen onto the screen of the in-vehicle system, T map for Car delivers greater user convenience through enhanced user Interfaces (UI) as well as customized features through cooperation with automakers.

Moreover, it is designed to work with in-vehicle infotainment systems/technologies of many different automakers. For instance, T map for KIA will provide screen mirroring based on MirrorLink**, while T map for JLR will offer the service by interworking with Jaguar Land Rover's InControl Apps***.
** MirrorLink is a device interoperability standard set by the Car Connectivity Consortium. It offers integration between a smartphone and a car's infotainment system via wired connection.
*** InControl Apps is an in-vehicle infotainment platform used by Jaguar Land Rover to enable users to enjoy a variety of vehicle-optimized smartphone apps on their in-vehicle touch screen by connecting their device to the USB port.
Customers, regardless of their mobile carrier, will be able to download the T map for KIA app and T map for JLR app, free of charge, from Google Play or One Store**** and will be able to use the service by simply connecting their smartphone to the in-vehicle infotainment system via a USB cable.
**** One Store is an integrated app store jointly launched by SK Telecom, KT, LG Uplus and Naver.
"SK Telecom's T map for Car will deliver enhanced customer convenience and new value in the area of connected car services by combining the most popular mobile navigation service T map with in-vehicle navigation systems," said Lee Hae-yeol, Senior Vice President and Head of T Map Business Division of SK Telecom. "SK Telecom will continue to make efforts to develop and expand connected car services by working closely with diverse partners in the automotive industry."