SK Telecom and Ericsson Demonstrate Software-Defined Telecommunications Infrastructure for 5G
---
Intel® Rack Scale Architecture (RSA) based Software-Defined Telecommunications Infrastructure completes end-to-end network slicing for 5G
Programmable infrastructure can dynamically be composed to satisfy various 5G services with highly diverse requirements
---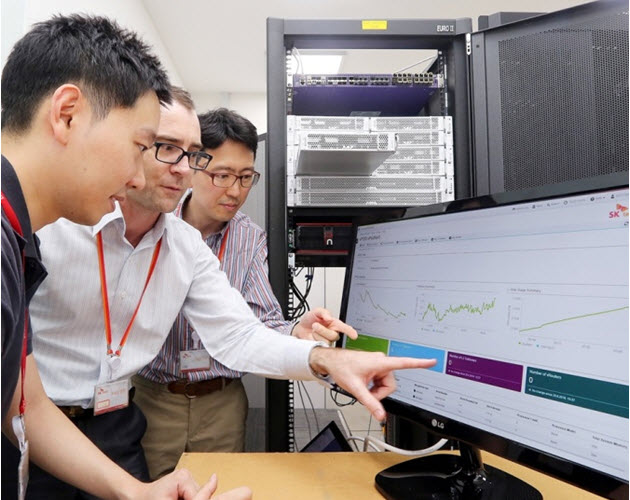 SK Telecom announced that it, together with Ericsson, demonstrated for the first time in the world 'Software-Defined Telecommunications Infrastructure (SDTI)' based on Hyperscale Datacenter System 8000 on June 20, 2016 at '5G Playground,' the company's 5G technology innovation center located in Bundang, Korea.

SDTI refers to an infrastructure platform where all mobile network infrastructure components, such as CPU, memory and storage, are disaggregated as customizable modules that can be flexibly and dynamically recomposed together to provide the optimal level of infrastructure scale for various 5G services based on their requirements.

Based on the concept of infrastructure slicing, it allows for the dynamic composition and lifecycle management of infrastructure at the physical hardware layer, ranging from ultra-mini servers for personalized services such as individual broadcasting and personal blogs to massive scale servers for services such as mobile telecommunications and OTT services. Moreover, SDTI enhances efficiency in network infrastructure upgrades as the disaggregated module of the server can be separately upgraded. It also offers strengthened security by physically separating each user's infrastructure.

Through the demonstration of SDTI, a key technology for end-to-end 5G Network Slicing*, the companies showed that network slicing concept may as well be applied at the physical infrastructure domain to best support their slicing counterparts in the virtualized network functions and network domain, thus completing the missing puzzle piece in the end-to-end network slicing technology.
* End-to-End 5G Network Slicing is a virtualized and logically separated network, tailored and optimized for a particular user or service, consisting of network slices of different domains in the mobile network including radio access network, IP transport network, core network, and physical infrastructure.
SK Telecom expects that, as there are active discussions on virtualized infrastructure platform for 5G by international organizations such as Open Compute Project (OCP) and Telco Infra Project (TIP), the world's first demonstration of SDTI is expected to draw a lot of attention from both industry and standardization communities.

Building on this milestone, SK Telecom and Ericsson plan to jointly build end-to-end 5G pilot system - which consists of 5G device, radio, core network, and SDTI - by the end of 2016, and verify the technical feasibility and performance of the 5G system.

Ulf Ewaldsson, CTO, Ericsson, said "We are pleased to jointly develop this SDTI technology based on Ericsson HDS 8000. Ericsson will continue to lead the 5G network technical innovation toward the 5G commercialization in collaboration with SK Telecom."

"SDTI is an innovative technology that enhances network efficiency by flexibly constructing hardware components to satisfy the infrastructure performance requirements of diverse 5G services," said Park Jin-hyo, Senior Vice President and Head of Network Technology R&D Center of SK Telecom. "SK Telecom will continue to work closely with Ericsson to develop and verify innovative virtualization technologies to optimally support both new and existing services over the 5G network."