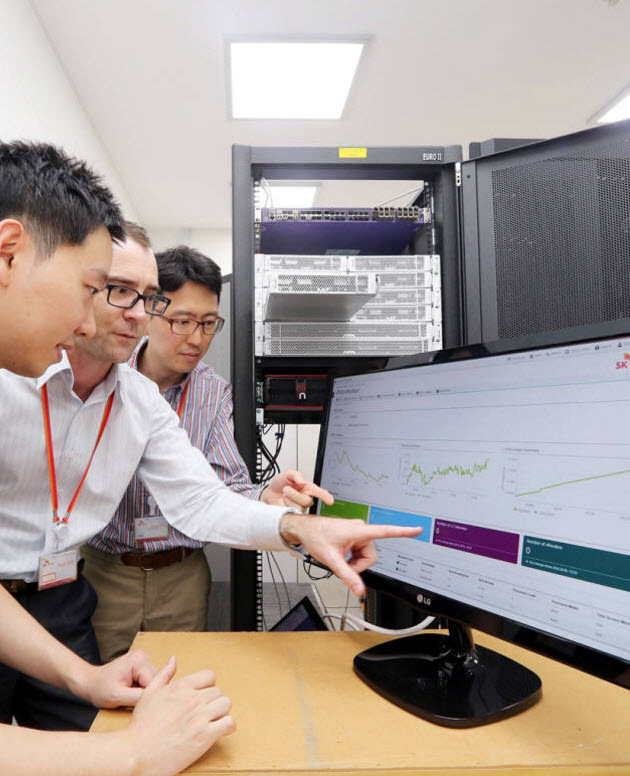 <A picture of SK Telecom and Ericsson demonstrating Network Slicing technology >
Telecommunication industry is increasing its investments into 'Network Slicing' technology that is seen as one of major technologies for 5G communication because this technology can reduce cost and increase efficiency in management by creasing an environment according to telecommunication services through virtualizing network structures.
Network equipment providers are also working on R&D to implement this technology. SK Telecom is working with Ericsson and Intel to develop 'Network Slicing' technology.
Industries are predicting that a telecommunication service with Network Slicing will be commercialized in 2018.
Other telecommunication businesses are also going to work on developing this technology. "Network Slicing technology is a must not only for telecommunication speed, but also to implement telecommunication services personalized for markets." said a representative for SK Telecom. "Telecommunication and network industries are putting all of their companies' abilities to develop this technology."

Network Slicing divides virtualized network structures and allows many network services to be used at the same time.
Current network is unified as single structure that combines base station, long-distance telecommunication network, core network equipment, internet, and management system. To implement single service, single network is needed. When telecommunication services are finished, network is either abolished or redesigned to form new services.
"Many network is allocated in places where there is huge amount of traffic and network from other places can be used temporarily when service is going through heavy increase." said a representative for Ericsson-LG. "Because many services can be implemented at the same time through automated systems, efficiency in management can be maximized."
Network Slicing is also important for IoT service. For example when bicycle location tracking service and remote reading service are implemented at the same time, more flexible management is possible since network is going to be leaning towards an area where there is more traffic.

Global network equipment providers such as Cisco, Huawei, and Brocade are also actively investing into Network Slicing technology. Cisco Korea recently included Network Slicing technology into a portfolio of new products that can implement business strategies of South Korean telecommunication businesses.
Huawei is also working on increasing technical skills by succeeding in demonstrating Network Slicing technology with foreign telecommunication businesses such as Deutsch Telecom. Brocade Korea is introducing telecommunication equipment solutions that support Network Slicing technology in domestic markets.

"Network Slicing technology will play a huge role for telecommunication businesses when they are preparing and releasing services according to market situations." said a representative for an industry. "It is solidifying itself as the main technology for next-generation networks."

Network Slicing = It is a technology that devices network structures into many. Because it can be implemented only in virtualized network environments, it happens first in SDN (Software Defined Network) and NFV (Network Function Virtualization). As markets for SDN and NFV are growing, demands for Network Slicing technology is increasing also.