KT's 5G roadmap: Pilot service and standardization by 2018 and world's first commercial service by 2019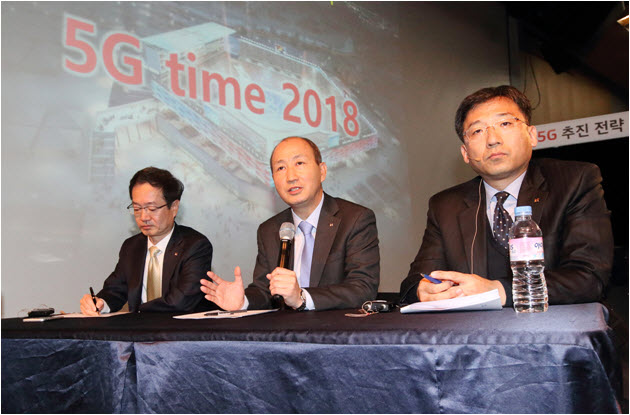 Hongbeom Jeon, the head of the Infrastructure Research Center, Seongmok Oh, the head of Network Division and Changseok Seo, the head of Network Strategy Unit (from left) are having a Q&A session after 5G roadmap announcement
KT, a South Korea's leading network operator, said in a press conference at KT Square in Kwanghwamoon, Seoul on the 8th that it would take the lead in global initiative to build 5G ecosystem.
Since the chairman Changkyu Hwang shared the company's 5G vision in the MWC 2015, KT has actively partnered with global leading vendors in efforts of establishing common 5G specifications and verifying key 5G technologies and systems for introduction of the world's first 5G pilot service. It has also co-worked with relevant global organizations to lead the global efforts for 5G standardization.
■ 'KT 5G-SIG Specifications' unveiled - More thriving 5G ecosystem
KT opened a new page, 'KT 5G Service', on its official home page (http://www.kt.com/biz/kt5g_01.jsp) and disclosed 'KT 5G-SIG (Special Interest Group) specifications' co-authored with global equipment/chip vendors like Nokia, Samsung, Ericsson, Intel and Qualcomm on the 8th.
In the specifications, to be used for 5G pilot service in 2018 PyeongChang Winter Olympic', are reflected key 5G requirements and technological components defined by global leading standardization organizations like ITU and 3GPP.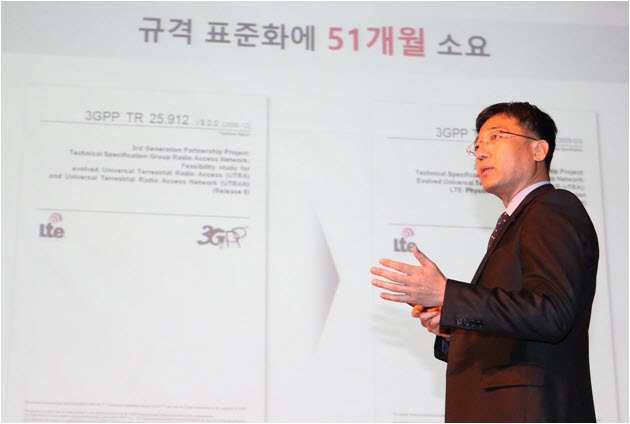 The unveiled specifications will help small and medium size enterprises, universities and research centers in the nation to engage in more researches on 5G repeaters, components and devices, allowing Korea to lead technology enhancement and ecosystem expansion in the 5G sector.
The 'KT 5G Service' page offers brief description of key 5G solutions and a full copy of the 'KT 5G-SIG Specifications' (available for download), along with KT's recent developments of 5G systems and devices, and the test results contributed to global leading institutes like 3GPP.
Other than Verizon and other partners (Nokia, Samsung, Ericsson, Intel and Qualcomm) who executed an MOU with KT in June, this was the first time the Specifications were disclosed to the public.

It was KT's prediction that, since global 5G standard has not been established yet, it is inevitable for global leading operators and equipment/chip vendors to use the Specifications for their 5G pilot service development, making more Korea-oriented 5G standardization possible.
■ 5G pilot service in 2018 and world's first commercial 5G service in 2019
The company aims to launch 5G pilot service on the basis of the 'KT 5G-SIG Specifications' in 2018 PyeongChang Winter Olympic, and take the lead in opening up an new era through launching the world's first 5G service.
Earlier on October 26, KT, jointly with Samsung, succeeded in demonstration of '5G First Call' using the Specifications for the first time in the world. On November 3rd, a test process by KT and Nokia for checking interworking between 5G base station and device was also kicked off.
In addition, since October, KT has been working on the verification of 'the virtualized 5G core network' that is designed for easier combining of software and hardware from manufacturers over 5G network.
For this, Samsung and Nokia teamed up for verification of their virtualized equipment to test the technical feasibility of a service that meets 5G network requirements like massive connectivity, ultra mobile broadband and ultra low latency.
Once the 'virtualized 5G core network' is verified to be feasible, all solutions from different vendors can run on a single universal infrastructure, leading to faster and easier service release while making 5G network infrastructure highly expandable as demand changes over time.
The global partners of KT are all aiming to have 5G base stations, devices and core network equipment to be used 2018 PyeongChang Winter Olympic ready by the end of the year. KT plans to use them to deploy a 5G pilot network during the test period of the Olympic in February 2017.
During the pilot service period, key 5G network technologies and services will be tested in the real network environment, making the 'KT 5G-SIG Specifications' be reflected in 5G standards of major standardization organizations including 3GPP. This will help the company be better poised for its scheduled launch of commercial 5G service in 2019.

■ Leadership in 5G standardization effort
KT hopes to remain leader in 5G Standardization efforts by staying globally active and through aggressive and innovative solution development.
At the 'ITU-T SG13' general meeting last year, the company proposed key study areas for 5G standardization, and it took the initiative in forming 'ITU-T Focus Group on IMT-2020'. As a result, a draft global standard it had proposed in respect of 5G network management was approved by ITU-T for the first time in the world.
Also, since the submission of an article about 5G vision to 3GPP 5G workshop in September 2015, KT has so far submitted 92 contributed articles as efforts to make the key technologies of 'KT 5G-SIG Specifications be adopted as 3GPP standards.
The more influence Korea can have on 5G standardization, the faster it can build a 5G commercial network - before Europe and the USA - by leveraging its nationwide optic fiber cable network.
Changseok Seo, Senior Vice President and Head of Network Strategy Unit at KT, said "In November 2015, we took the lead in forming a 5G-SIG. Since then, KT has been diligently developing base stations, devices and core network equipment based on the KT 5G-SIG Specifications." He added "We will exert efforts to help the nation host the successful 5G Olympic by orchestrating partnership among global vendors, and also to remain leader in 5G technologies."