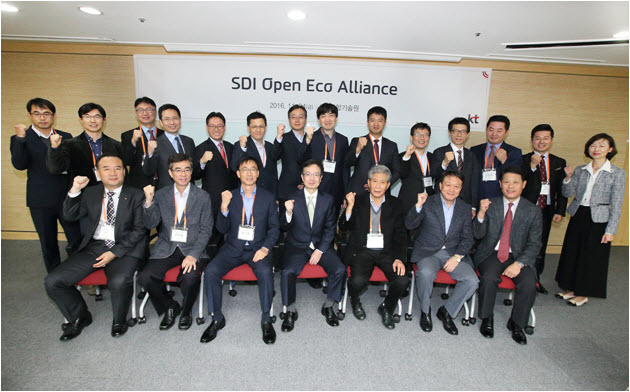 In the generation of 5G and IoT (Internet of Things), to process vast amounts of data, the need for innovative new network technology is becoming clear. With this in mind, KT worked with partner companies to launch an institution that certifies software-based network solutions. And KT will lead the consortium for researching software-based infrastructure technology.
On November 4th, at their office building in Umyeon, Seocho-gu Seoul, KT (CEO Hwang Chang-Gyu, www.kt.com) announced: "In order to develop software infrastructure we are announcing the establishment of the SDI (Software Defined Infrastructure) Open Ecosystem Alliance."
The SDI Open Ecosystem Alliance led by KT will take the development of the next generation enterprise Information Communications Technologies, and work on all parts of it, including the discovery of core technologies, standardization, pre-launch testing. Global companies such as Samsung Electronics, Affirmed Networks and Edgecore Networks, along with domestic IT companies such as Dasan Networks, Secui and IN Soft contributed their technical expertise to the newly created SDI Open Ecosystem Alliance.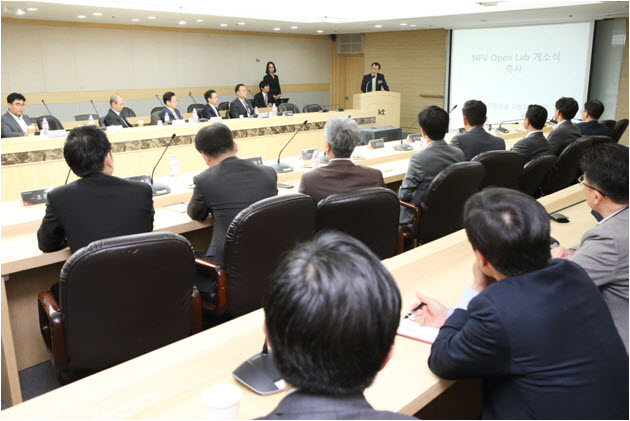 Earlier on November 3rd at KT's Umyeon office building KT announced their Network Functions Virtualization (NFV) Open Lab. NFV replaces hardware needed in the creation of networks with a software solution. For the opening ceremonies, Leading domestic and global companies attended the opening ceremony including Samsung Electronics, Cisco, HPE and BI Solutions. With NFV Open Lab, KT is planning active application of NFV-related technologies.
So what is KT's NFV Open Lab? , KT's NFV Open Lab consisted of B2C Zone providing wired and wireless service, and a Monitoring Solution for checking the quality of NFV. NFV Open Lab will be opened to small-medium business partners to improve their NFV related technologies and practice collaborative management.
KT SCM Strategy department head Han Won-sik said "In ushering in the 5G and IoT era, we are shifting from thinking of network infrastructure as hardware and moving toward viewing it through a software paradigm. In order to invigorate the software-centric network-technology ecosystem, the NFV Open Lab will be always open."
Through the construction of the open ecosystem, KT is getting ready for the application of SDI which is essential to the 5G and IoT era. SDI (Software Defined Infrastructure) is the application of NFV (Network Function Virtualization) and SDN (Software Defined Networking) technology to ICT (Information and Communications Technology) infrastructure. This allows software programs to be used instead of hardware devices, for control and automation, via this advanced network building method. It was with this goal in mind that KT last September, KT received the approval for NFV Open Lab from an international standards organization. The doors to the NFV Open Lab opened on November 3rd, and official establishment of the SDI Open Ecosystem Alliance was on the 4th. There are plans to continuously investigate new solutions in the field of software-based infrastructure technologies.
KT Infrastructure lab manager Jeon Hong-bom said "The SDI Open Ecosystem Alliance is comprised of both domestic and international companies which are leaders in Software Defined Infrastructure. And I'm looking forward to the continued results they will achieve through this collaboration. KT which is a leader in software-based infrastructure technology development provides organizations with low-cost, customized ICT services and works with its partners to achieve shared growth."