South Korean government finalized amended NB-IoT standards aiming to launch the world's first, commercial NB-IoT network in June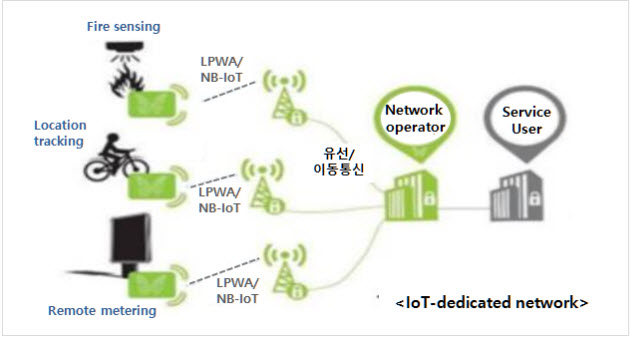 The Ministry of Science, ICT and Future Planning (MSIP), a South Korean government authority, announced the finalized technological standards for Narrowband IoT (NB-IoT) commercialization on March 31th.
KT and LG U+ plan to begin deployment of an NB-IoT network and launch a trial service starting from April, with an aim to launch commercial services in June. South Korea will become the first nation with a nationwide NB-IoT network in the world if everything goes as planned.
SK Telecom deployed a LoRa-based IoT nationwide network in June 2016. Now, all South Korean big 3 network operators will have their own Low Power Wide Area (LPWA) IoT network soon.
NB-IoT technology, one of the LPWA IoT technologies that utilize LTE frequency, is known to be ideal for transmission of low-volume data that requires infrequent delivery. This technology can be most commonly used in metering, tracking and sensing, and does not require batter replacement for years thanks to its ultra-low power consumption.
KT and LG U+ will offer the following services using the new NB-IoT network:
Metering/measurement (water, gas, electricity, air and water quality, etc.)
Location tracking (senior citizens and pets, anti-theft solution for bikes)
Sensing (fire, gas leakage, toxic substance, cracking)
Controlling (building and home automation, maintaining facilities at theme parks)
IoT is expected to bring a great ripple effect throughout the entire economy of the nation, creating KRW13.183 trillion of added value and 427,991 jobs by 2020.