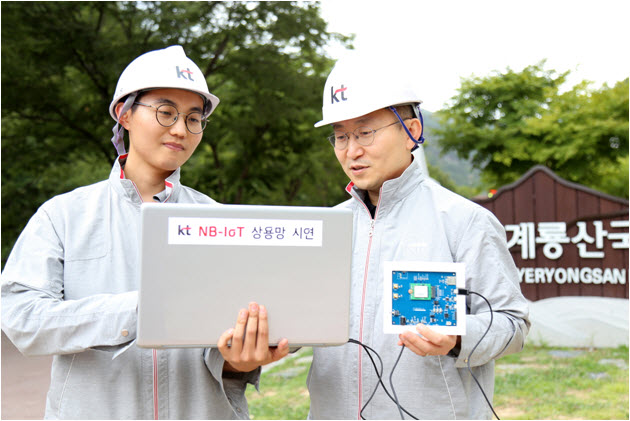 KT, in cooperation with Nokia, showcased some key 3GPP-based NB-IoT technologies on the commercial LTE network for the first time in the world on the 31st. During the showcase, Nokia's base station and NB-IoT-dedicated core network equipment were used.
NB-IoT, which stands for Narrow Band IoT, is a Low Power Wide Area (LPWA) technology using only 200 KHz bandwidth substantially narrower than conventional communication like LTE and 3G, and a solution designed specifically for small-volume data communication between things. It is ideal for Internet of Small Things (IoST) services like smart metering (remote metering) and smart street light.
NB-IoT was first defined in 3GPP Release 13 in June 2016, and will further be standardized in Release 14. KT had already conducted a Lab test with Nokia back in June, and this time it successfully demonstrated low-power consuming narrow band (200 KHz) communication and power boosting technologies on an actual commercial LTE network for maximum coverage.
The showcase gave the operator an opportunity to prove that, even areas with poor coverage like underground parking garages and remote hiking trails can be covered thanks to the NB-IoT technologies' ability to amplify power strength even with low power consumption.
In the 2nd half of the year, the operator plans to complete deployment of a nationwide NB-IoT network after service feasibility test. It will remain committed to developing a wide range of new NB-IoT-based services including smart mirroring, security service, asset management, smart factory, smart city, etc.