Samsung successfully delivers Virtualized Evolved Packet Core to Korea's Largest Mobile Network
<Source: SK Telecom>
Important milestone reached for Network Functions Virtualization, the Internet of Things and Next Generation Mobile Networks

Samsung Electronics Co., Ltd., a leading provider of mobile broadband networking solutions, has successfully deployed its virtualized AdaptiV Core solution for South Korean operator SK Telecom, delivering Network Function Virtualisation (NFV) capabilities which were announced in February this year.
The primary component of the solution is a virtualized Evolved Packet Core, the AdaptiV vEPC, which transits the core network infrastructure from highly-specialized, purpose-built hardware to a significantly more efficient and flexible software-driven system. At its heart, the vEPC is based on the same powerful, standardized server hardware that runs IT systems around the world; on top sits an operating environment – the hypervisor – which is responsible for executing specific network functions. These network functions can be dynamically assigned computing, memory and storage resources from a shared pool, based on each function's real-time requirements. The result is that the network gains a high degree of scalability and improved efficiency in resource usage.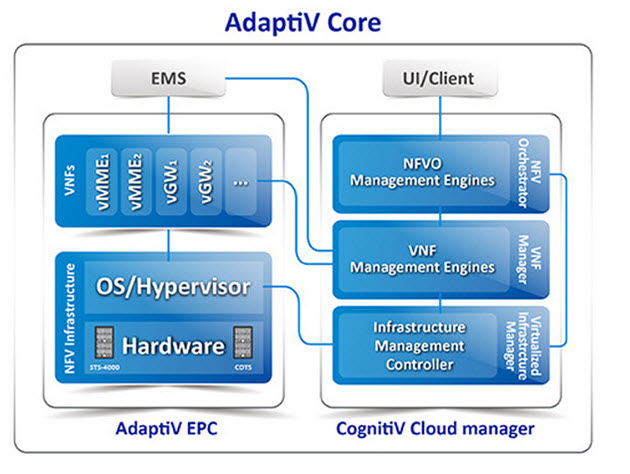 < Samsung's AdaptiV Core Solution >
This scalability and resource management is carried out by two key components of Samsung's CognitiV Cloud Manager solution – the Virtualized Network Function Manager (VNFM) and the Virtualized Infrastructure Manager (VIM). These two components will directly interface with the AdaptiV vEPC, and provide not just automated intelligent network management capabilities, but also make it possible for SK Telecom to easily monitor and adjust performance in real-time.
While the AdaptiV Core solution is capable of replacing legacy LTE core network systems, SK Telecom is targeting the technology at next generation network demands. A key responsibility of the operator's newly deployed virtual core network infrastructure will be the management of emerging traffic from Internet of Things and video services which travels through SK Telecom's wireless network. In particular, the operator will take advantage of the AdaptiV vEPC's ability to leverage network resources as needed, and rapidly scale in or out to meet demand, without costly infrastructural extensions.
Both SK Telecom and Samsung have identified NFV as one of a group of critical components for the transition to, and deployment of, next generation networks. The company's deployment of Samsung's AdaptiV Core solution represents an important step towards meeting the vision of a ubiquitous, high-throughput, highly reliable and ultra-efficient 5G network.
Related Netmanias Content: Tech-Blog
SK Telecom, catching up the new trend through commercialization of commercial server-based EPC