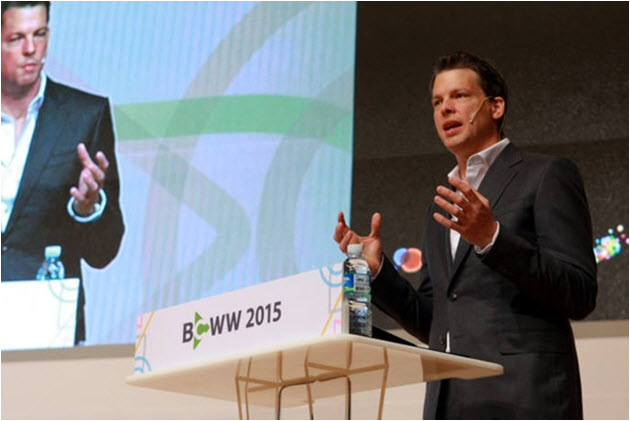 <Chief Streaming and Partnerships Officer Gregory Peters of Netflix>
America's biggest video-streaming (OTT: Over The Top) service business called 'Netflix' is entering South Korean broadcasting market in early 2016.
By putting 3 elements of self-produced contents such as 'House of Cards', world's most UHD contents, and low monthly rate out in markets, Netflix is rapidly seizing commands of global broadcasting markets.

While focus is on how much influence will Netflix have on South Korean market, some people are also interested on whether or not 'Cord Cutting' phenomena, when people withdraw from subscription TV services, will happen in South Korea just like it did in the U.S.
Chief Streaming and Partnerships Officer Gregory Peters of Netflix made an official announcement of Netflix's plan to enter South Korean market during his keynote speech at Broad Cast World Wide (BCWW) that was held at KOEX in Samsung-dong on the 9th.

"Netflix is already sending tens of South Korean contents to global markets including the U.S. and Brazil. Netflix will provide its service in South Korean market in early 2016." said Gregory Peters.

Netflix has been making cooperative relationships with subscription TV services platform businesses in foreign countries until now because it can minimize early cost if it uses data delivery network and customer databases (DB) that had been established by current businesses. Platform businesses can develop new product lines or services through Netflix's contents.

In fact, Netflix held hands with Japanese telecommunication business called Softbank in Japan, where it started its formal service in last month. It is known that Netflix is currently negotiating with subscription TV services including IPTV140 about supplying its contents to them.

It seems that Netflix will install its application in a form of embedded software (SW) into subscription TV services' setup boxes because it can easily establish charging system through conditional access system (CAS) that is installed within setup boxes.

"Netflix increased customers' level of convenience by working together with subscription TV services from different countries and making its rate into a method of combined charge. If we install our application into setup boxes, people can easily use variety of contents in similar situations as before." said Gregory Peters.

He also showed Netflix's strategy that pushes for competitiveness in contents to public. Netflix is planning to show its self-produced contents, which are about 450 hours in total, in many countries at the same time within this year and also planning to expand amount of UHD contents and show contents in 'High Dynamic Range (HDR)' format that show better quality by improving brightness and ratio of light and shade of screens. It is also going to speed up its movie business and show public movie contents that are produced in France, Japan, and Mexico sequentially starting from next month.

"South Korea that has world's best internet infra has the potential to lead internet TV markets. We are going to develop variety of business models by distributing current South Korean contents to global markets and expanding relationship with South Korean contents producers." added Gregory Peters.