LG U+ and Nokia: CA and pooling demonstration using vRAN and commercial smartphone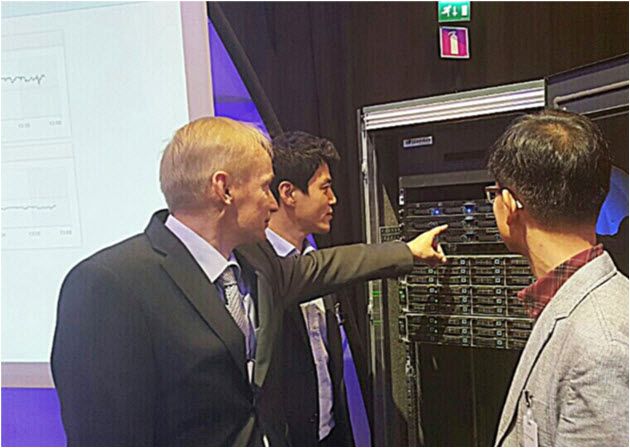 With 5G service scheduled to arrive in 2018, LG U+ and Nokia presented a new technology that can connect both 4G Remote Radio Head (RRH) and 5G RRH to one Digital Unit (DU), at the Nokia
headquarters
on the 16th.

The technology is known to accelerate introduction of a next-generation base station platform, virtualized Radio Access Network (vRAN). The new vRAN makes resource pooling more efficient because it considers resource utilization rates at each base station, and distributes data traffic accordingly, thereby yielding enhanced data rates.

LG U+ announced on the 16th that it, jointly with Nokia, a global network equipment vendor, conducted a demonstration of deploying 'commercial' base station software over universal IT servers by means of vRAN for the first time in Korea. During the demo, it was proven that maximum speeds were improved through Carrier Aggregation (CA) on 'commercial' smartphones. It was also confirmed vRAN actually adjusted and configured resource allocation at each base station according to their resource utilization rates.

The companies also modified the architecture of C-RAN so that some functions previously performed in DU can be performed in RRH instead, proving themselves ready for 5G era where ultra-high speed transmission services are required.

Ultra-high speeds are not the only thing the 5G era would require. More efficient data traffic management as well as more flexible connectivity with legacy LTE customers would be needed.

vRAN deploys IT virtualization features over base stations. Because it enables centralized management of data, which have been managed locally at each base station, integrated data processing becomes possible through virtualized network equipment, providing more reliable services efficiently.

Once 5G RRH becomes available, a DU can be simultaneously connected to both 4G RRH and 5G RRH. Thanks to this nature, dual connectivity services can be offered, ensuring seamless data services through 4G when 5G is not available.

Conventionally, a base station consists of different units manufactured by different vendors for different purposes. Because each unit is designed to provide specific network features, it was, of course, hard for many small- and medium-sized vendors to introduce new network features. vRAN, however, makes it much easier to offer various new network features. Operators can simply upgrading software virtualized in universal servers just like upgrading software installed in the computer.

It not only allows operators to overcome a physical limitation that only certain number of RRHs can be connected to a DU, but also significantly saves time and costs because just adding one more RRH can give the same effect as installing one more base station.

Now, LG U+ plans to conduct field tests of vRAN in its commercial network next year, and develop more virtualization technologies with the aim of their commercialization in 2017, prior to 5G commercialization.

Sun-tae Kim, CTO at LG U+, said, "The new technology introduced in the demonstration was real cloud-based intelligence infra made possible through close cooperation between LG U+, who built Korea's first LTE network nationwide, and Nokia, who is equipped with the world's best virtualization technologies." He went on, "We will continue to lead network evolution to offer optimal 5G service."