At a forum hosted by 'media it' on September 10, titled "5G Vision Forum", Dr. Haseong Kim from Institute of Convergence Technology at KT made a presentation on the company's 5G vision and innovations titled "Innovations and Changes towards 5G".
■ 5G Concept
5G network should support Big Pipe, Massive Connectivity, and Near-Zero Latency
Mobile cloud computing platform can offer reduced TCO as well as higher flexibility and scalability
■ 5G Network Vision
To bring multi-RAT interworking (LTE / WiFi/ 5G (<5GHz) / 5G (mmWave)) technology, and unified access network that combines wired and wireless access networks, by leveraging its powerful wired infra.
■ 5G Innovations
&
1) Distributed Core Network
Core nodes (user plane) are deployed forward at RAN for handling low-latency service and huge traffic.
Mobile core units are divided into two: user plane core unit (MCU-UP) and control plane core unit (MCU-CP).
MCU-UP is placed at RAN (closer to cell sites) along with App/Cache server.
MCU-CP will be operated by SDN controller.
2) Network Slicing
Logically-separated 5G services (or slices) on 5G unified network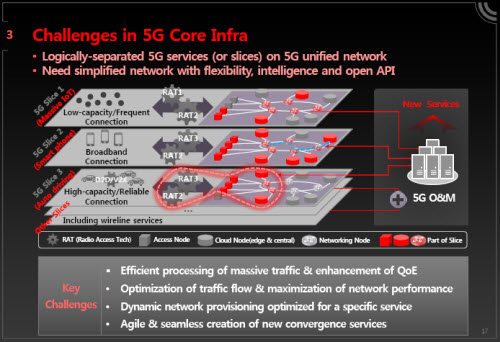 &
3) 5G C-RAN Architeture
Redesign of function split between DU and RU to support massive MIMO
DU/RU in 4G -> CU/AU in 5G