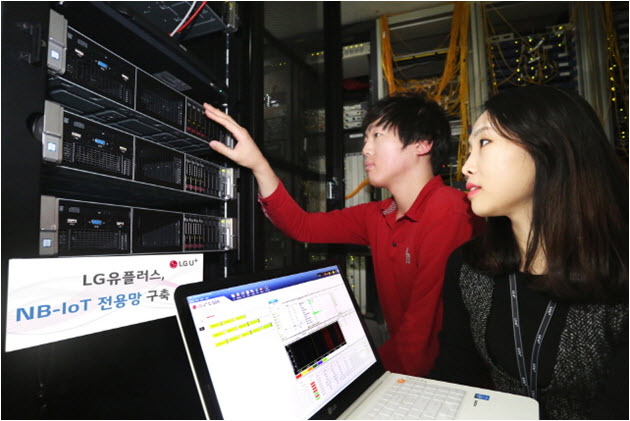 LG U+ launched the deployment of an NFV-based, NB-IoT-dedicated core network equipment called 'C-SGN' that it developed in cooperation with Eluon, a South Korean mobile communication solution developer last month.
* NFV (Network Functions Virtualization)
* NB-IoT (Narrowband IoT): A Internet of Things standard defined by 3GPP that enables Low Power Wide Area (LPWA) communication by using 200 KHz narrow bandwidth instead of 20 MHz bandwidth used in LTE-M.
* C-SGN (Cellular IoT-Serving Gateway Node): Core equipment specifically designed to serve NB-IoT devices
C-SGN is an NB-IoT-dedicated gateway that serves the same purposes as existing EPC gateways. It enables operators to manage the two types of networks in the core network - LTE and NB-IoT networks - in different manners.

Optimizsed EPS architecture option for CIoT - Non-roaming architecture (3GPP TS 23.401)
The NB-IoT network by LG U+ can be operated independently from LTE network while still leveraging the wide coverage of the existing LTE network. This provides a reliable way to offer both LTE service and IoT service without affecting each other in terms of service quality.
This network solution can be especially useful in the industrial IoT sector where many B2B services are offered. For example, an optimized IoT-dedicated network can be configured to satisfy the certain needs of specific customers just like an 'LTE-dedicated' network can be configured for certain manufacturing facilities. Also, because the capacities of LTE or NB-IoT networks can be increased independently, operators can manage their equipment investments in more efficient ways.
NB-IoT, being served using the LTE nationwide network, is recognized as an ideal solution that offers excellent coverage and reliable service quality. Many global leading operators like China Mobile, AT&T, T-Mobile, China Telecom, Vodafone, etc., are also looking into adopting this NB-IoT solution as a tool to help them enter the IoT market.
Most of the major players in the LTE core network equipment market have been large-scale, local or global, enterprises. So, the participation of Eluon, a local SME, in the recent development of a key NB-IoT solution will likely help other SMEs to enter and expand in the local and global markets.
With the experience it will be gaining from this deployment, LG U+ aims to accelerate deployment of the NB-IoT ecosystem by expanding its business areas to more sectors like public utilities (e.g. remote metering), industrial IoT and smart city.
Heo Vitus, Network Strategy Unit Vice President at LG U+ noted "We are now building an infrastructure to accommodate NB-IoT devices in most efficient and reliable ways for the first time in the nation." He continued "We will stay committed to developing more advanced communication equipment and solutions through partnership with local SMEs."