KT announced on February 25th that, in collaboration with Samsung and Qualcomm, it will be demonstrating the world's first 'LTE-WiFi Link Aggregation' (AKA 'LTE-H (HetNet)') that combines two heterogeneous networks - LTE and WiFi - at Mobile World Congress (MWC) 2015 to be held in Barcelona, Spain next week.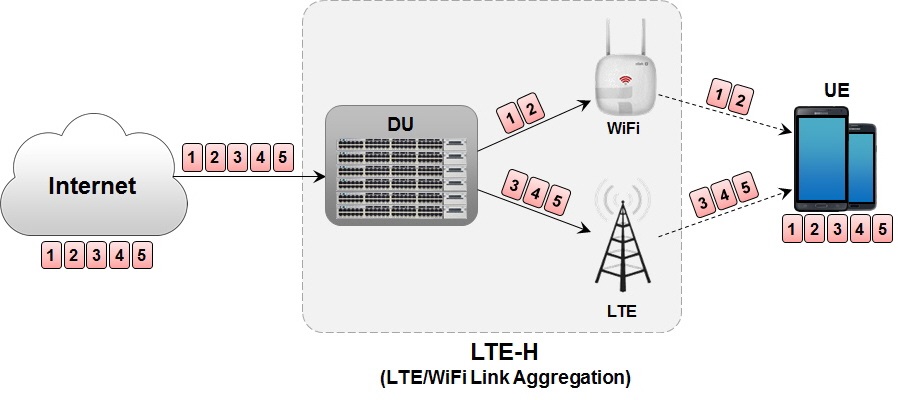 <Source: KT>
LTE-H does not merely combine frequency bands like the current LTE-A Carrier Aggregation (CA) technology, but also combines links in different radio access networks (Link Aggregation). It will serve as the core technology for merging 4G and 5G as the evolution to 5G continues.

Because the new technology uses both LTE and WiFi networks at the same time, it supports up to 600 Mbps - combination of 150Mbps of broadband LTE and 450 Mbps of GiGA WiFi speed.

Unlike the conventional software-based LTE-WiFi combination transmissions, LTE-H enables LTE base stations to directly control Wi-Fi access for the first time in the world. So, it is more transmission-efficient and easier to use.

Especially, base stations detect signal strength between user devices and WiFi AP, and automatically control on/off function to allow/deny access to Wi-Fi. So, users can enjoy uninterrupted and seamless service even when they are moving, which has been an issue in WiFi.

By taking advantage of its extensive WiFi networks, KT plans to pilot the new LTE-H network providing giga-class speeds at hotspots across South Korea in the first half of 2016.

Related Netmanias Tech-Blog
[PDF] Netmanias Interview with KT at MWC 2015: KT's demonstrations of LTE-H and LTE-U
March 30, 2015 | By Dr. Michelle M. Do and Dr. Harrison J. Son (tech@netmanias.com)

Related Netmanias Photo

Related Netmanias ONE-SHOT