---
SK Telecome built a system for R&D of mmWave technology at its R&D center in Bundang, in cooperation with Samsung - Korea's first key 5G equipment installed in an operator's building
SK Telecom and Samsung Electronics have strived to cooperate since the execution of an MOU entered in April for joint R&D of key technologies needed for world's first commercialization of 5G service
---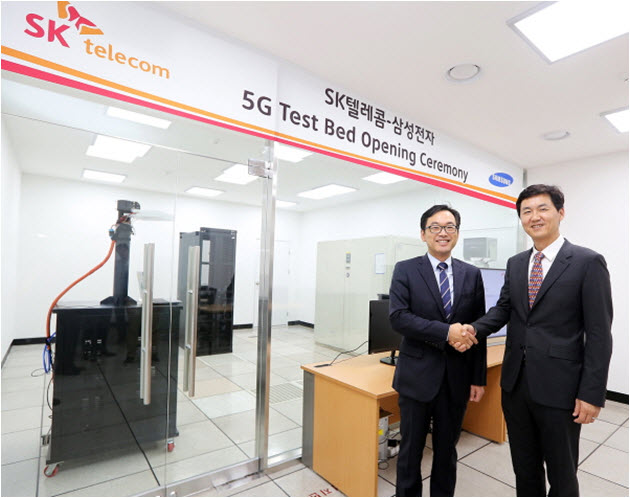 SK Telecom announced on the 30th that it completed building a system designed to help R&D of 'mmWave' technology, one of the key 5G technologies, at its R&D center in Bundang, in collaboration with Samsung Electronics.

The system is known to be the Korea's first 5G system built in an operator's building. Alex Jinsung Choi, CTO, executive vice -president and head of SK Telecom's corporate R&D center and Cheun Kyung-whoon, executive vice president and leader in Digital Media & Communications R&D center, Samsung Electronics gathered to observe a demonstration of 'mmWave' and discuss further development of the technology.

Through the established system, the two companies plan to verify i) drastically improved data transmission speeds, ii) wireless transmission speeds between base station and mobile device, iii) and the possibility of applying the technology to urban areas.

mmWave technology, one of the key 5G technologies, uses wider frequency bandwidths at much higher frequency spectrums (i.e. 6 GHz or higher) than those usually used for mobile communication today, to deliver faster transmission speeds.

As conventional frequency bands have already been saturated and fragmented, the company said the mmWave technology, known to leverage the ultra-high frequency spectrum to secure wide frequency BW, would significantly help to open the 5G era faster.

The two companies have constantly cooperated with each other since October 2014, to develop a technology that can utilize ultra-high spectrum above 6 GHz, which has conventionally been known as unsuitable for long distance communication due to signal attenuation resulting from traveling over long distance.

The companies have endeavored to develop 5G technologies since they entered into an MoU executed in April to strengthen the cooperative relationship in 5 key ICT areas like next-generation N/W and the IoT.

Through the establishment of the system, the two companies plan to reassure their global leadership in development of 5G technologies, and make more joint R&D efforts to launch the world's first 5G service in 2020.
The SK Telecom CTO Alex Jinsung Choi said, "we are pleased to launch the mmWave system that would allow for development and verification of mmWave technologies, through collaboration with a global ICT player Samsung Electronics." He added, "we will continue to cooperate with each other in R&D activities to lead the 5G era.
Cheun Kyung-whoon, executive vice president, Samsung also noted, "Samsung Electronics has been developing the top-notch communication technologies through cooperation with SK Telecom, who has the world's best networking technologies. And we will continue to do so for 5G technology development."

Earlier in March, the two companies demonstrated 'mmWave' technology achieving 7.55 Gbps of ultra-fast data transmission speeds at the Mobile World Congress held in Spain. They also presented a demonstration of 5G-related services like real-time robots, successfully drawing global attention.