Chairman Hwang Chang Kyu of KT says that KT will lead 4th Industry Revolution with its World-Best Giga-Infra
Chairman Hwang Chang Kyu of KT put out telecommunication-edition of 'Hwang's Law' and declared that it will lead South Korea's 4th industry revolution with 'intelligent giga-infra' and 'ICT convergence' as revolution's key words. KT will invest $10.9 billion (13 trillion KRW) until 2020.
"We've been working hard for last year and 8 months with a desperate mindset. We are going to lead 4th industry revolution by utilizing world's best ICT infra." said Chairman Hwang Chang Kyu of KT at 'South Korea's 130th Anniversary of Telecommunication' meeting with reporters that took place in KT Gwanghwamun Building Olleh Square in Sejongno and also introduced 'Hwang's Law'.

"If one analyzes 4th industry revolution theory that Germany and others presented, 'ICT + manufacturers' are the basis of that theory. Because KT is trying to converge industry and one' personal life and all of industries and industry, our range is much wider and stronger." said Chairman Hwang.

He chose 'intelligent giga-infra' as a source that will bring competitive edge to 4th telecommunication industry revolution. KT will bring its wireless telecommunication speed, which is currently world-best at 1 Gbps, up to 20 Gbps by 2018 Pyeongchang Winter Olympics and will also complete Smart intelligent giga-infra. He personally introduced 'Wiz Stick', which is world's first portable security platform, and explained that it solves personal security problems from the bottom at an infra level.

Chairman Hwang introduced world's first complex energy efficient solution 'KT MEG' and emphasized that KT will be in charge of making sales of $1.3 billion (1.6 trillion KRW) in South Korean energy markets by 2020. In IoT80 area, he announced that KT will secure leadership in that area through open platforms such as 'Giga-IoT Alliance' and others and by working on standardization. In car area, he said that KT is currently researching on self-driving cars with South Korea's top car businesses and will soon show results that will surprise the world.
Chairman Hwang chose ICT converged industry such as next-generation media setup box, bio informatics, unusual financial transaction monitoring system, and others as major source that will bring profit. He announced that KT will invest $10.9 billion in future-growth industry until 2020 and that this area will achieve sales of $4.2 billion (5 trillion KRW) in South Korea and sales of $1.7 billion (2 trillion KRW) in foreign countries in 2020.

As Japan ruled over as the powerhouse in electronic industry for 30 years as it introduced world's first broadcasting through color TVs at 1964 Tokyo Olympics, he also presented KT's vision that it will help South Korea to become a telecommunication powerhouse by making 2018 Pyeongchang Winter Olympics as the world's first 5G telecommunication Olympics.

"We are going to become 'Convergence Builder' that will increase all of industries' values through intelligent giga-infra. KT that has 130 years of telecommunication infra and knowhow will lead South Korea's 4th industry revolution." said Chairman Hwang.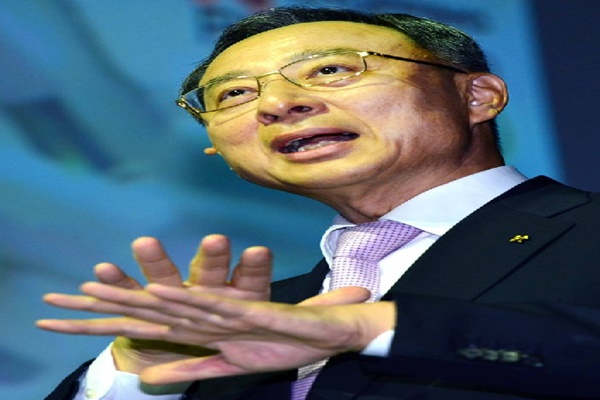 <"We've been working hard for last year and 8 months with a desperate mindset. We are going to lead 4th industry revolution by utilizing world's best ICT infra." said Chairman Hwang Chang Kyu of KT at 'South Korea's 130th Anniversary of Telecommunication' meeting with reporters that took place in KT Gwanghwamun Building Olleh Square in Sejongno and also introduced 'Hwang's Law'.>