KT & Nokia present World's First 'Ultra-low-delay eMBMS' delivering HD Video in 1 Second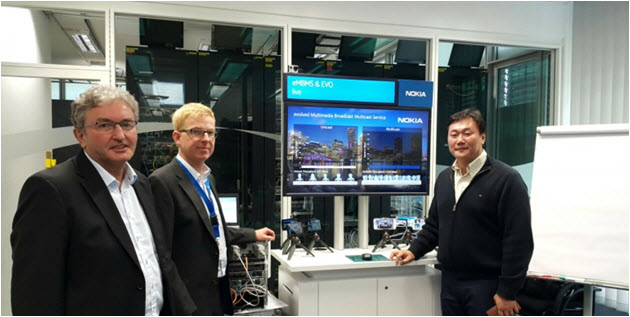 A new technology capable of simultaneously delivering HD video to multiple users in less than 1 second is coming soon.
The new technology will be particularly ideal for serving a large crowd of users in areas like large-scale concert hall, sports complex, etc. with HD video and content.
KT announced on the 1st that it, jointly with Nokia, has successfully developed and demonstrated a new "ultra-low-delay eMBMS" technology, which can send HD video to multiple users at once with a time delay of less than one second.

The new technology is innovative in that it features drastically reduced delay time, compared to its precedent, LTE eMBMS, allowing for provision of multi-channel service like HD video to multiple users simultaneously.

In the demonstration held at the Nokia Research Center in Munich, Germany, KT confirmed that it took less than 1 second for HD video clips sent from HD cameras to be played back on smartphones.

The new technology can be useful when delivering video clips quick in crowded areas, for example, during the 2018 Pyeongchang Winter Olympic event, or when sending video from remote locations in the event of emergency or disaster.

In addition, it can be employed in 5G mobile communication service that requires ultra-low-delay, like auto-driving vehicle, intelligent transportation system, etc.

Mr. Dongmyun Lee, Executive Vice President at KT's Institute of Convergence Technology, noted, "With the successful demonstration of the ultra-low-delay eMBMS, we have secured foundation for realizing ultra-low-delay service, a key element of the coming 5G era." He added, "We will continue to make efforts to bring the 5G era closer and become a leader in 5G technology development."