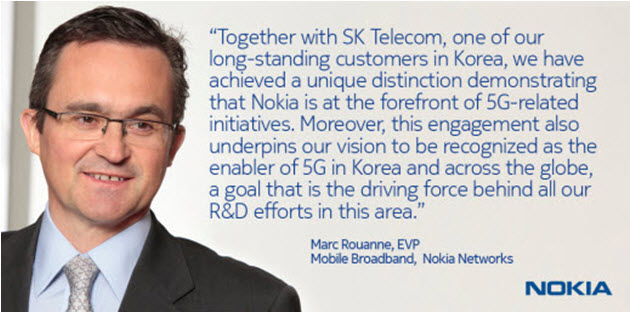 SK Telecom and Nokia Networks achieve 19.1 Gbps over the air in joint 5G trial
Proof of Concept demonstrates Nokia Networks' cmWave technology
Underlines companies' unwavering focus on making 5G a reality
SK Telecom and Nokia Networks together demonstrated Nokia Networks' cmWave technology, setting a new milestone that adds momentum to the standardization of 5G* technologies. In a joint 5G trial in South Korea, the two companies achieved 19.1 Gbps transmission speed over the air using 256 quadrature amplitude modulation (QAM), 8x8 Multiple-Input Multiple-Output (MIMO) transmission and 400 MHz of bandwidth. This initiative underlines the leadership of both Nokia Networks and SK Telecom in developing the framework for superb 5G-based value propositions for users and fostering future service innovation. It also showcases the potential of 5G to transmit massive amounts of data in the blink of an eye, which would, for example, enable a user to download a full-HD movie in a matter of seconds.
Solution details at a glance:
Demonstrates access point sending downlink transmission over the air and receiving it at the mobile terminal
Evaluates radio channel performance at cmWave frequency band
Provides runtime feedback while moving the mobile terminal or blocking paths between the access point and the terminal
Alex Jinsung Choi, Chief Technology Officer, SK Telecom, said:" With the world's first demonstration of the cmWave technology, we have reached a significant milestone towards realizing 5G. The 19.1Gbps transmission speed we achieved almost meets one of the key capabilities of 5G defined by the ITU-R. SK Telecom will continue to work closely with Nokia Networks to maintain this momentum towards creating a new era of communications."

Marc Rouanne, Executive Vice President, Mobile Broadband, Nokia Networks, said: "Together with SK Telecom, one of our long-standing customers in Korea, we have achieved a unique distinction demonstrating that Nokia is at the forefront of 5G-related initiatives. Moreover, this engagement also underpins our vision to be recognized as the enabler of 5G in Korea and across the globe, a goal that is the driving force behind all our R&D efforts in this area".
Source: Nokia