SK Telecom, Korea Expressway Corporation and Korea Electronics Technology Institute teamed up for self-driving vehicle communication solution V2X
IoT platform for vehicle and mobile network from SK Telecom + Traffic infrastructure from KEC + Chipsets from KETI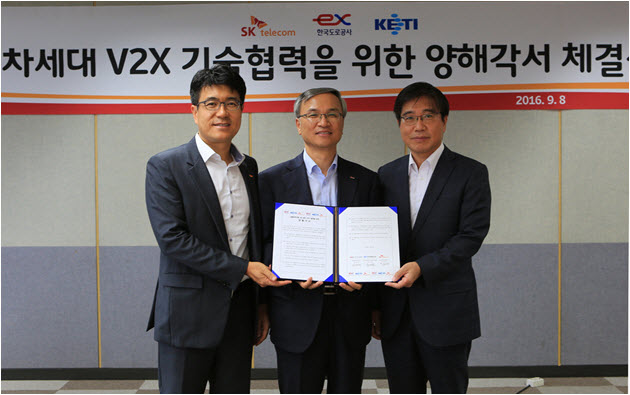 SK Telecom announced on the 8th that it executed an MoU with Korea Expressway Corporation (KEC, www.ex.co.kr) and Korea Electronics Technology Institute (KETI, www.keti.re.kr) for technological partnership in relation to V2X (Vehicle to Everything), a next-generation automobile communication for self-driving vehicles.
'V2X' allows for exchanging and sharing of data, like traffic conditions, through communicating with traffic infrastructure on the road like traffic lights, and neighboring vehicles while moving in a car. The technology is said to be a key element to emerging driving-related solutions like 'Connected Car*' and 'Cooperative Automated Driving**'.
* Connected Car : Provides a wide range of mobile service like Internet and remote vehicle control through mobile communication connection
** Cooperative Automated Driving: Enhances safety during self-driving by offering infrastructure information like road conditions that self-driving vehicles cannot properly obtain through vehicle communication
The three parties will cooperate to discover safer self-driving solutions that allow exchange of data between road infrastructure and vehicles on the road by leveraging V2X that utilizes not only conventional Local Area Network (LAN), but also the mobile communication network. To do this, the parties will integrate the following systems:
KEC – Solutions like traffic infrastructure and Integrated Transportation Information System (ITIS)
KETI - V2X-enabled chip sets and solutions
SK Telecom - IoT platform for vehicles and next-generation mobile communication network technology
Starting 2018, the parties plan to conduct solution demonstrations on KEC's testbed, which spans 40 km across two major highways in South Korea, and cooperate for development of future V2X technology and its key services.
As V2X evolves, data collected from vehicles on the road like vehicle location and road conditions, and information about accidents, road infrastructure, and more can be exchanged in real time, drastically improving road safety.
Recent solutions have mostly focused on Vehicle to Vehicle (V2V) or Vehicle to Infrastructure (V2I) communication primarily with driver safety in mind. However, integrated service and solutions are needed in order to improve performance of vehicle communication and to support self-driving.
Jinhyo Park at SK Telecom said, "I hope this MoU execution will lead to successful development of new vehicle communication solutions that will help self-driving, the key element of the coming Connected Car era, become more popular and safer.