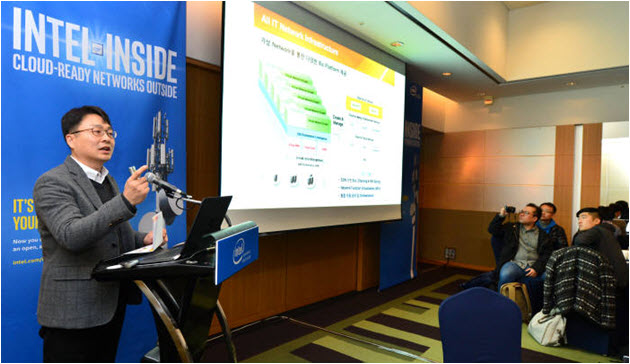 SK Telecom and Intel are teaming up to secure Software Defined Networking (SDN) and Network Function Virtualization (NFV), two key underlying technologies in 5G communication, with the aim of addressing deceleration issues encountered in virtualized networks.
On the 3rd, Intel Korea announced the news about 'Partnership with Intel Solution for building next generation communication infrastructure' at COEX Intercontinental Hotel in Seoul.
Seokwon Ju, Manager at SK Telecom's Advanced Institute of Technology, gave a presentation on 'Partnership with Intel for 5G commercialization', arguing: "Once 5G is commercialized",
"All communication equipment will become IT equipment "
"Networks will become customized for each industry (e.g. communication, media, etc.)"
"All IT elements excluding H/W, will be open source, and netowrk functions will be implemented through Application Programming Interface (API)".
According to Mr. Ju, the border between existing 'IT' equipment and 'communication' equipment will become vague, and networks will be customized for individual service such as communication, media, etc . He also noted, to build 5G environment, networks will have to be virtualized, or implemented by means of S/W, implying Software Defined Datacenter (SDDC), one of the most discussed elements in the field today, will become essential in 5G.
Deceleration issues have been experienced in networks that are virtualized, or controlled by SW, which can slow down data speeds up to by 10% according to the industry. SK Telecom, in cooperation with Intel, has diligently sought a way to cope with the issue, and confirmed that, in a test where Intel's Data Plane Development Kit (DPDK) was used, virtualized network speeds were improved up to by 2~8 times depending on operating systems (OS) used.
Also, for the past 3 months, SK Telecom has been testing networks using Intel's switching chip set, and is currently in talks to use Intel's rack as a server for SDDC.
Doo Soo Kim, Executive Director of Intel Korea, said "the hottest topic of the year will be cloudification of networks through SDN and NFV."