---
Joins hands with SOCAR to jointly build a connected car service supported by SK Telecom's IoT network 'LTE-M'
Plans to also provide its vehicle infotainment tablet installed with the T Map app to enrich driver's in-vehicle experience
The MOU marks as a milestone for its IoT business as it applies its IoT platform and infrastructure to car sharing business
---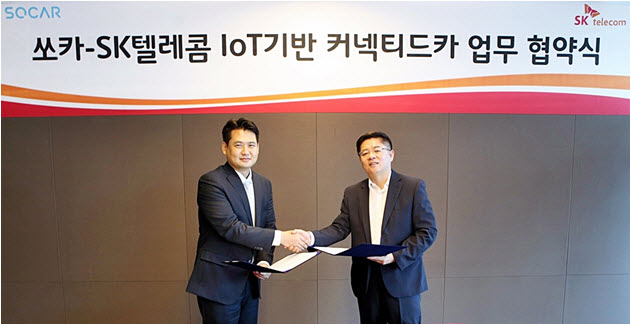 SK Telecom today announced that it signed a MoU with SOCAR, the largest car-sharing company in Korea, to cooperate in the connected car business.
Under the MOU, SK Telecom and SOCAR will collaboratively develop and launch an innovative connected car service to enhance user experience in the era of IoT. SK Telecom will provide SOCAR with its in-car infotainment device installed with the T Map platform, and the cars will be connected via SK Telecom's IoT network 'LTE-M*.' The connected car service will go through a pilot test in the end of this year and is expected to launch in the first half of 2017.
* SK Telecom has completed the nationwide rollout of the two key IoT-dedicated networks, namely LTE-M (as of March 2016) and LoRaWAN (as of June 2016) to perfectly support the widest range of IoT services.
With the support of the LTE-M network, the car sharing service users will be able to remotely control the car in real-time with no delay via their smartphones, and the car will be seamlessly connected to the control center to send/receive information.
Moreover, installed with SK Telecom's user-friendly infotainment tablet equipped with T Map, the nation's no.1 mobile navigation service provided by SK Telecom, SOCAR's rental cars will deliver a new level of user experience through enriched infotainment services. For instance, users will not only experience the most accurate navigation service, but will also be able to enjoy diverse multimedia content and make future car sharing service reservations.
Car sharing service is growing rapidly throughout the world as it enables users to conveniently rent cars while saving cost. With the development and adoption of advanced ICT including connected car technologies, SK Telecom expects to create new business models that will bring differentiated value to customers.
"Through cooperation with SOCAR, SK Telecom successfully expands its IoT infrastructure and platform to the car sharing business," said Kim Young-joo, Senior Vice President and Head of Enterprise Business Office of SK Telecom. "We will work closely with SOCAR to develop and provide more advanced connected car services."