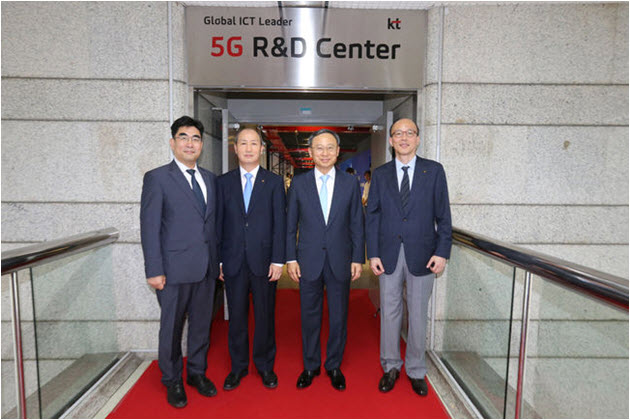 KT, an ICT industry leader in Korea who has just commercialized GiGA LTE only a month ago, announced on the 9th that it now opened 5G R&D Center, equipped with the latest network equipment and professionals from global leading vendors, at its Woomyon Research Center in Seoul, to take the lead in development of 5G ecosystem around the world.
Two months ago in May, the company executed MoUs with global vendors like Samsung Electronics, Ericsson, Nokia, Alcatel-Lucent, Huawei and ZTE, and now the center, a massive 5G test infra, is ready to go.
The center will serve as a venue for researchers and engineers from KT and the global partners, who would collaborate with each other for sharing technologies, cooperating mutually and conducting R&D activities on core 5G technologies like millimeter wave, massive MIMO, ultra-dense network, next-generation network architecture, and mobile edge computing.
KT plans to expand 5G test cluster to Gangnam area so that 5G tests, which have been restricted to the indoor environment only, can also be conducted on sites as well. This will allow the company to conduct 5G technology verification in real urban areas with high mobile traffic.
Such expansion is expected to help the company offer the world's first 5G trial service during the 2018 PyeongChang Winter Olympics, successfully fulfilling its duty as an official sponsor of the event. Also, the new R&D center is anticipated to play a key role in building a solid basis for 5G standardization in the future as well.
Dr. Dongmyun Lee, Executive Vice President at KT's Institute of Convergence Technology, said, "KT, as a telecommunication industry leader in Korea, has been leading next-generation network technology development in the nation. And, the opening of the center has provided a basis for developing 5G technology, in partnership with global partners." He added, "Now we will stick at showing Korea's unbeatable ICT competitiveness to the world by offering the world's first 5G service at the 2018 PyeongChang Winter Olympics."