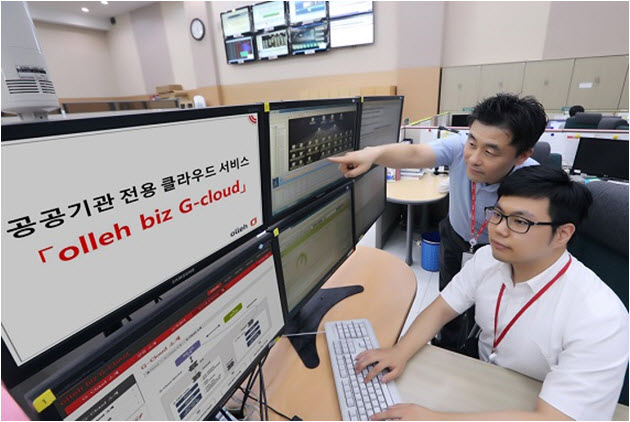 KT launches the first ever domestic cloud service dedicated to public institutions called "olleh biz G-Cloud." In the photo, KT employees inspecting the olleh biz G-Cloud Service system.
KT (CEO Hwang Chang-Gyu, www.kt.com), who currently operates a cloud service portal for businesses, announced that it would be launching the first ever domestic cloud service dedicated to public institutions called "olleh biz G-Cloud."
"olleh biz G-Cloud" is a service which provides a cloud environment specifically for public institutions. The system in which this cloud service runs on is "physically" configured differently from the cloud service provided to the average business customer. Robust security is possible through the use of separate institutional network virtualizations along with providing separate independent virtual space.
Additionally, biz G-Cloud will only be accessible to authorized public institutions. With its Common Criteria (CC) based security system, along with a provided security managed service, biz G-Cloud offers solid reliability.

* Common Criteria (CC): an international standardized assessment criteria used to certify information security products.
With the passing of "The Development of Cloud Computing and Protection of Users Act" which goes into effect on September 28, cloud services have more credibility with public institutions that were once unwilling to adopt cloud services due to security reasons. Additionally, the foundation for the activation of cloud service can be laid with the commencement of this new act.
Therefore, with the launching of biz G-Cloud service, KT has also strengthened win-win partnerships with companies specializing in security, software development as well as other SME's so as to expand the cloud ecosystem.
Introducing provided security systems of domestic SMEs such as CC certified Firewalls, VPNs and intrusion prevention systems (IPS), to providing software such as database management systems and security solutions through "olleh ucloud biz Cloud Marketplace (https://ucloudbiz.olleh.com/cloudmarketplace/), KT is establishing infrastructure to ensure the prosperity of the domestic software industry.
Jung Mun-Jo, Director of KT's Infrastructure Management Outsourcing (IMO) said, "With the launching of olleh biz G-Cloud, we were able to provide a more credible cloud service to public institutions." He went on to say, "KT will continue to strengthen win-win partnerships with domestic SMEs and solidify itself as the top company all the while continuing to take the lead in the cloud industry."
For questions regarding olleh biz G-Cloud, go to the olleh biz G-Cloud homepage (http://gov.ucloudbiz.olleh.com) or call the customer service (080-2580-005).
All the while, as the top domestic cloud service provider, olleh ucloud biz (http://ucloudbiz.olleh.com) has since last January, enhanced its quality with a service level agreement guarantee of 99.95%. Additionally, since August 1st, the cloud console has been strengthened by restructuring the UI for ease of use and overall improved cloud usability.
Currently KT is providing cloud service that is based on robust security and which is at the highest quality to both large companies which includes clients from the financial sector as well as other various types of businesses. These cloud services include, "Virtual Private Cloud" (VPC), a configurable independent cloud environment with dedicated customer Rackspace.
"Enterprise Cloud," cloud service that gives the option to separate the infrastructure into a Public Zone and Private Zone depending on special security needs. "Hybrid Cloud," a service that allows the interlocking of currently used infrastructure with cloud infrastructure. Along with these cloud options, KT also provides other services depending on the level of security needed.