KT presented a Plan on How to realize 5G Technology and ICT Service at National Assembly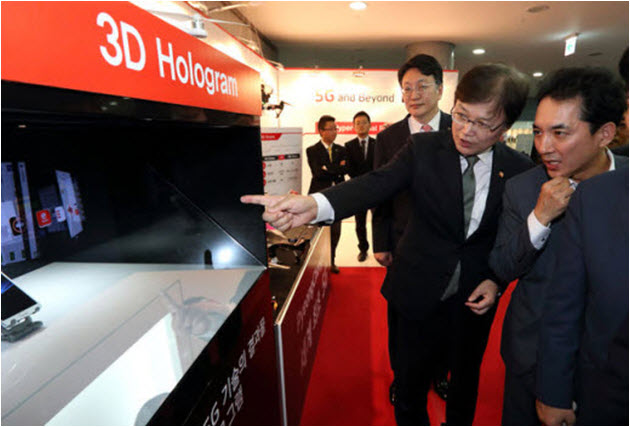 At a meeting 'PyeongChang Olympic featuring ICT technologies' held at the National Assembly on the 2nd, KT announced a plan for realizing its ICT services during the Olympic events, and demonstrated next-generation 5G and IoT services. KT is an official sponsor of the Olympic.

The meeting was hosted by Mr. Sangho Woo and Mr. Minsik Park, a member of the National Assembly, and organized by the Ministry of Science, ICT and Future Planning, Kangwon-do government, and the PyeongChang Olympic Organizing Committee.

Around 300 experts from many organizations including, the MSIP, Kangwon-do government, and the Olympic Organizing Committee, relevant industries, academic societies, and research centers, attended the meeting. First, there were discussions on 4 key topics including strategies on administrating ICT winter Olympic, providing of ICT services/products, and going abroad. Then 3 additional discussions and commentations on how to host a successful ICT Olympic, create more profits, and make good use of ICT technologies later on followed.

At the meeting, KT announced its plan on how to realize 5G technology and ICT service during the Olympic event. It also provided participants with chances to experience 5G IoT technologies like 3D Hologram, 5G Hyper-Virtual Reality, and 5G Drone.
In the '5G Hyper-Virtual Reality' experience zone, a real-time composition technology that can create virtual reality images of what is being watched on TV was introduced, allowing a user to fix his ski (or short-track, etc.) posture by comparing his with that of professional skiers. This technology actually had users feel like they are practicing in a real setting.
In addition, '3D Hologram' as well as remote controlled '5G Drone' capable of real-time transmission of UHD quality video were demonstrated.

Mr. Hyung-joon Kim, senior vice president at the PyeongChang 2018 Winter Olympics Games BU, said, "KT will provide new experiences and differentiated services by successfully introducing the world's first 5G technologies during the Olympic event." He added, "We will boost ICT export and maximize the synergy effect in the 5G network industry by taking advantage of a series of the sports events held in PyeongChang (2018), Tokyo (in 2020) and Beijing (in 2022)."